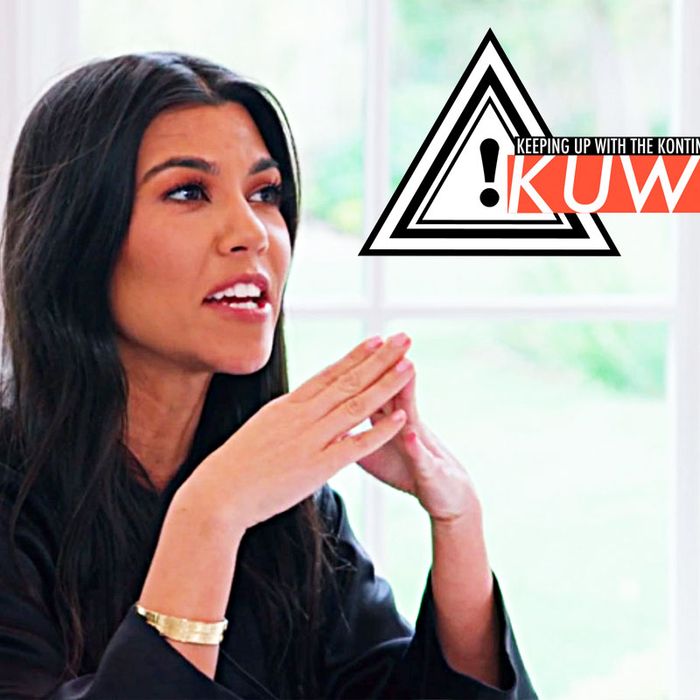 Kourtney Kardashian.
Photo: Courtesy of E! Entertainment
On this week's episode of Keeping Up With the Kardashians, our A plot was Kourtney Kardashian's indecisiveness; our B plot was Kim Kardashian's visit to New York City; and our C plot was Rob and Chyna's relationship. I don't want any of you to accuse me of being a bad decision maker — so #LEGGO!
Scene 2:
Kim Kardashian West travels from her starter home in Bel Air to Kourtney Kardashian's goal home in Calabasas. She's crossed multiple townships and counties to talk to her sister about details for their upcoming trip to New York City. Kim has graciously invited Kourtney to join her annual New York Fashion Week stunt through Manhattan, and though Kourtney is currently hashing out looks with a new stylist who is certainly not Monica Rose (hey, Sis. Dani: Your welcome package is in the mail!), Kourtney is unsure whether she'll actually make the journey. Kim would like an answer immediately because she needs to know exactly who on her team she needs to book on a commercial flight and who can fly privately with her. Despite Kim's one-percent conundrum, Kourtney feels no urgency to make a firm decision. This irritates Kim, who tells the room that Kourtney is the most indecisive person she's ever met. The scene ends with Kourtney's mind still not made up, which is interesting because New York Fashion Week was in February 2017, and this scene was filmed on March 21, 2017.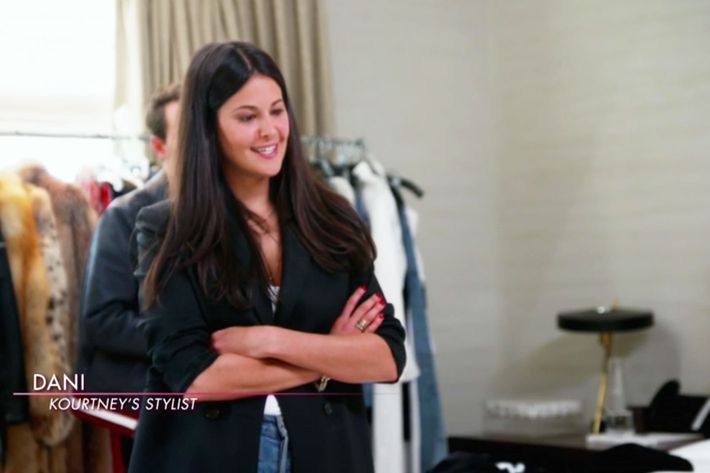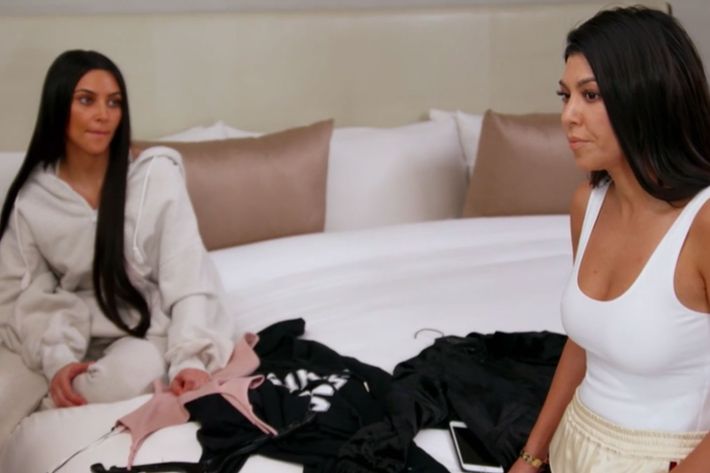 Scene 4:
Soon after her conversation with Kourtney, Kim hops into Uber for celebrities, a JetLux private jet, with the Greatest Assistant of All Time, Steph Shep. Ready to fly the friendly skies to New York City, they're all boarded and waiting for Kourtney. Frustrated, Kim calls her sister, who picks up and proudly tells her that she decided to bail on their trip. Though Kourtney decided that morning, she apparently got so busy pouring Manuka honey on her body and/or working out in her garage that she forgot to call and tell Kim. Kourtney says that our Lord and Savior Jesus Christ told her not to go on the trip, so she followed his word. Kim allows Kourtney this excuse, but reminds her that both half of the plane and Kourtney's room are on Kim's credit card, and she still expects to be sent her sister's portion of the expenses. Again, it's troubling that Kim didn't already know that Kourtney would not be traveling with them: This scene was filmed on March 10, 2017, almost a month after Kim left for NYFW on February 13. Let's hope that Kim didn't have to pay for the jet on March 10 or that she was at least flown to Color Me Mine in Los Angeles, where she was spotted later that day.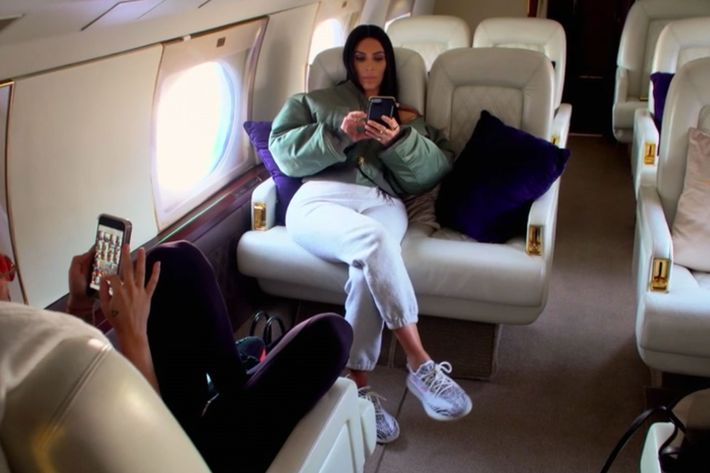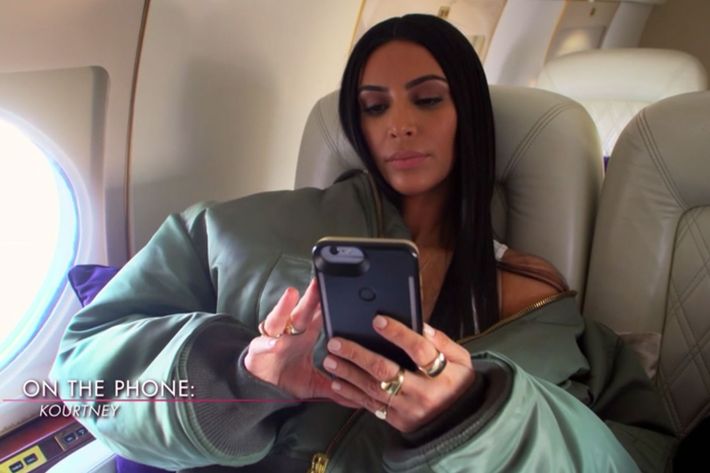 Scene 5:
In New York City, Mrs. West has lunch with the friend and gentleman always on hand to film with her, Simon Huck. They enjoy caviar at the Palace while talking about Rob and Blac Chyna's relationship. According to Kim, the former couple will be meeting with not-a-lawyer Kris Jenner to discuss a custody agreement for Dream Kardashian. Simon feels relieved by that information, and has more inquiries about Rob, specifically asking after his health. Kim tells Simon that Rob's lost 13 pounds and seems to be handling the stress of his relationship well. Once he's got all of his Rob questions out of the way, Simon's mind is clear to pretend to be shocked to learn that Kim hates olives and is eating around the ones placed in her salad. Simon, who is allegedly one of Kim's best friends, should absolutely know this about Kim. I guess next week he'll be shocked to learn that she has a "hidden" talent of being able to sniff out a cavity. This scene was filmed on February 16, 2017.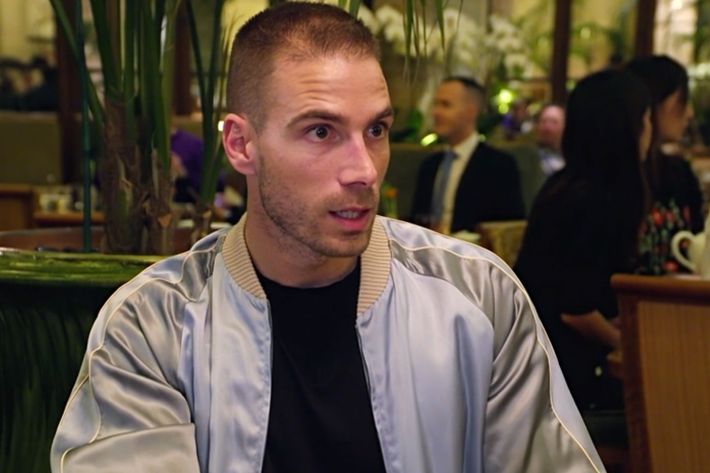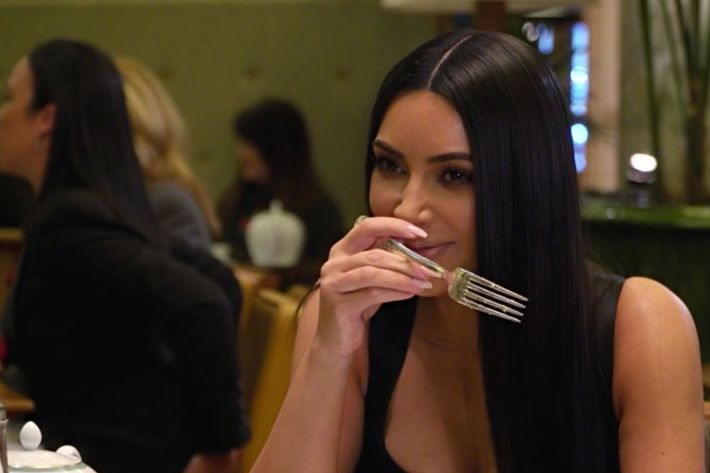 Scene 7:
Khloé Kardashian and Kris Jenner wait for Kourtney Kardashian to arrive for lunch. Dissatisfied with just waiting like a normal person, Khloé tells her mom that she wants to "fuck with" Kourtney. Khloé calls Kourtney, who is en route, to tell her that the chosen spot has changed and asks her to meet them across town. Kourtney is a little agitated, but agrees. Shortly after that call, Khloé calls Kourtney again to tell her that the restaurant choice has changed one more time. More annoyed than before, Kourtney complains about having to turn around yet again. Finally, Khloé calls Kourtney to tell her sister that they've actually settled on their original choice, and because she's got three mouths to feed and needs this check, Kourtney still meets her sister and mom, who are halfway done with their meal. When Kourtney arrives, Khloé admits that the whole restaurant swap was a trick aimed to give Kourtney a taste of her own medicine. She's upset with their prank, but Kourtney understands where they're coming from and even calls her own indecisiveness "debilitating." This scene was filmed on March 6, 2017.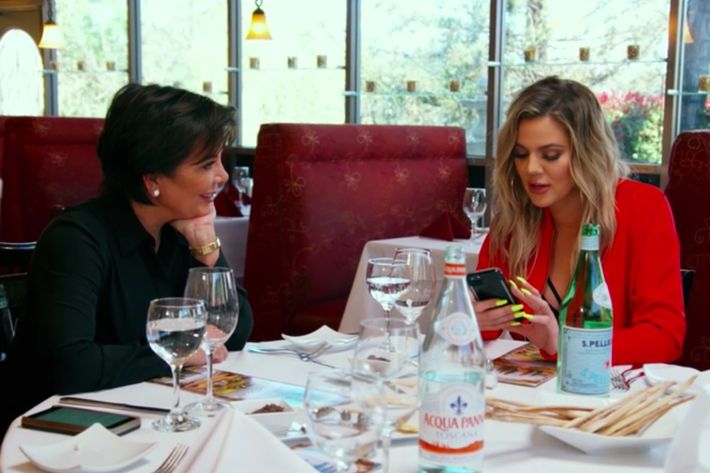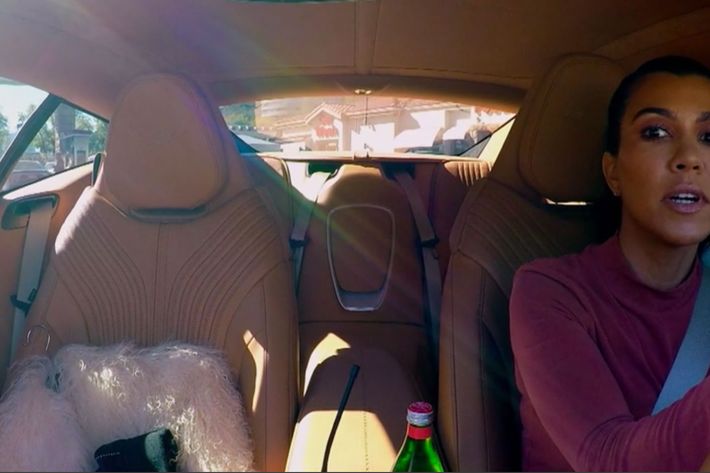 Scene 8:
Future mayor of Calabasas Kylie Jenner leaves her gated community for a trip to her pop-up store in Manhattan. In between shots of screaming fans, and teens racing to secure Lip Kits, Kylie takes photos with the lucky few who made it inside the store and talks about how grateful she is for her makeup empire. Hopefully we'll get more of the behind-the-scenes take on why Kylie looked extra Kylie in this scene when Life of Kylie premieres, but for now we'll just have to be grateful for the bits and pieces we're given this season and keep it movin'. Kylie Jenner showing off her wares was filmed on February 13, 2017.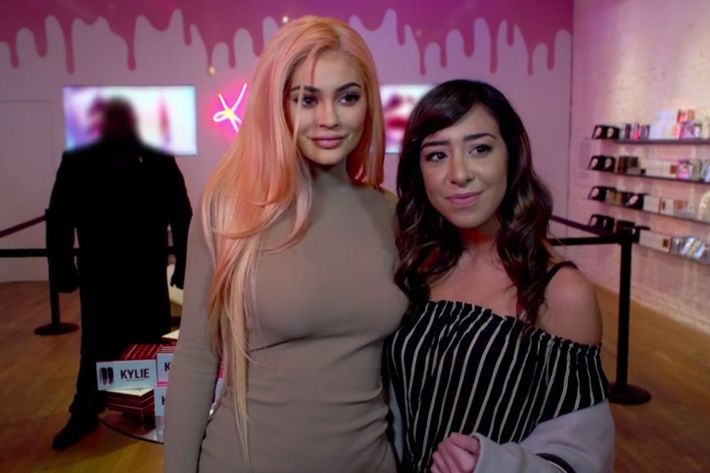 Scene 9/Scene 10:
Rob Kardashian is still tooling around town with Scam Artist Currently Moonlighting As Life Coach Jamel Davenport. And because Jamel is looking to incite a riot at any given moment, he suggests that Rob visit Blac Chyna at a photo shoot. The catch is, he suggests this after Rob's given a face mask to conceal the swelling and wounds from a particularly harrowing dental experience. Since Rob is still working on his sense of self, he agrees. Their visit is all-around rocky. Jamel starts by trying to enter Chyna's dressing room — and it turns out she's getting dressed, so he and Rob get a door to their faces as they wait for her to get decent. Once they're face-to-face with Chyna, things don't get much better. Chyna is polite but awkward, and both she and Rob are unwilling to participate in any conversation deeper than small talk. The conversation is awkward, and even more so after Jamel inserts himself to tell Chyna that they were nowhere near the area and still decided to drop in. Chyna doesn't seem to care.
In the car after their visit, Rob tells Jamel that he didn't feel welcomed, thinks Chyna was only composed because of the cameras, and felt like he was forced to go. Jamel calls this a positive interaction. Jamel's negative impact on Rob's life was filmed on March 8, 2017.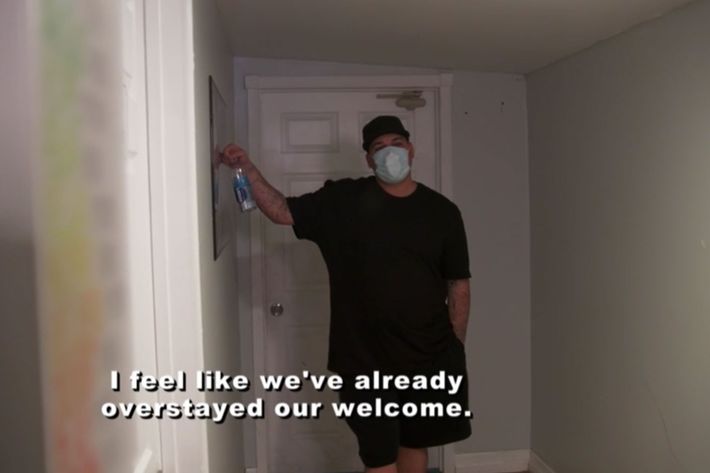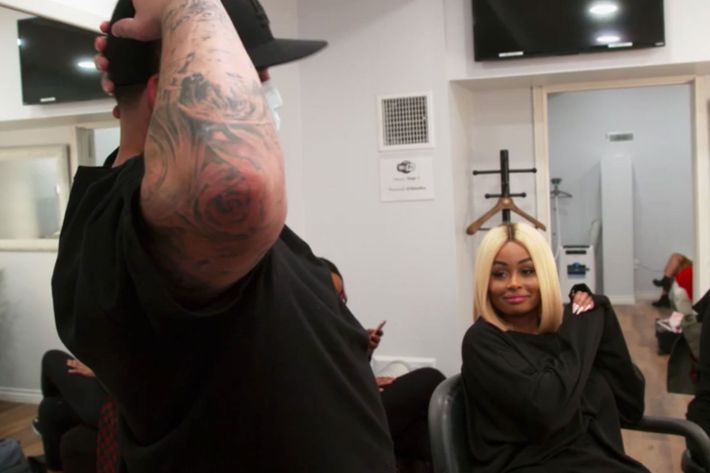 Scene 11:
Since she's in New York, Kim decides to drop by Kylie's pop-up shop. Luckily, she doesn't have to wait in line; she's escorted into the store immediately. Kim's proud of Kylie's accomplishments and jokes about stealing some of the products. She quickly tours the main shop, then heads to the back room to call Kylie and ask if she can give away free Lip Kits to fans. Kylie doesn't seem to mind, so Kim passes out Lip Kits to blurred-out faces who seem more eager to take the free product than interact with Kim. This scene was filmed on February 14, 2017.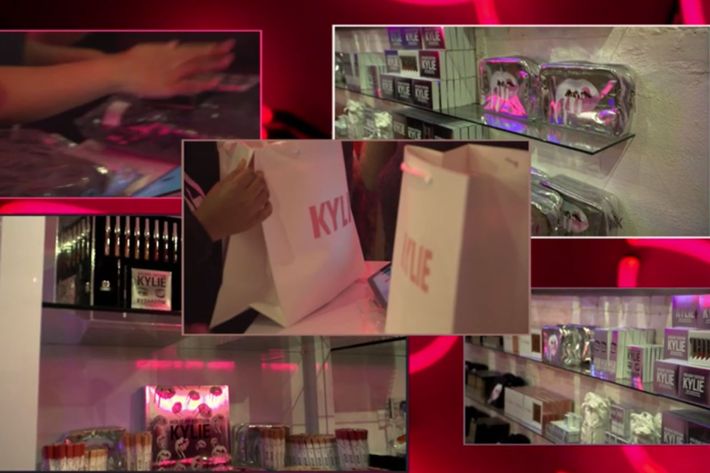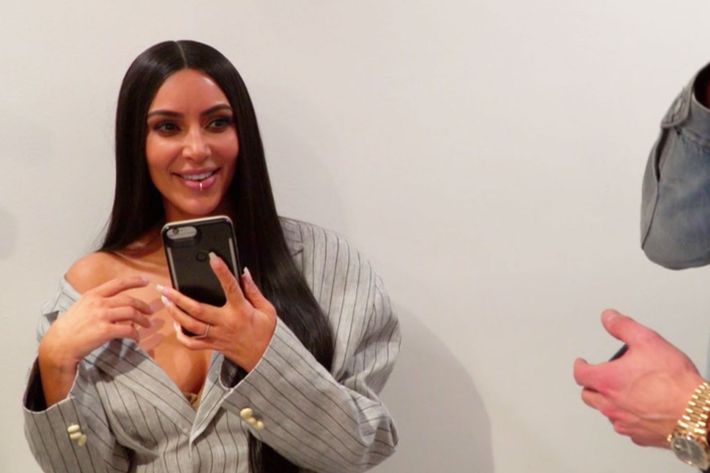 Scene 12:
Still stuck on Kourtney's indecisiveness, Khloé devises a plan to run Kourtney through quick decision-making drills. With the help of Everybody's Favorite Best Friend, Malika, Khloé quizzes Kourtney on gift giving within the family and quickly choosing her favorite things when given the choice between two options (ex.: dairy free or gluten free). Kourtney's not fast enough for Khloé's liking, and fails. This scene was filmed on March 22, 2017.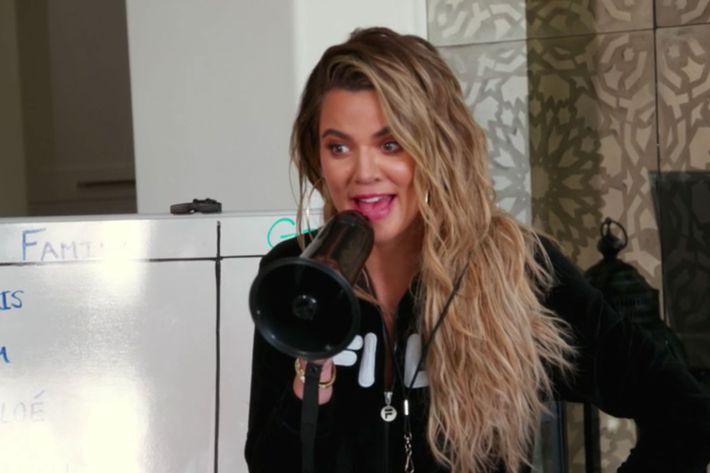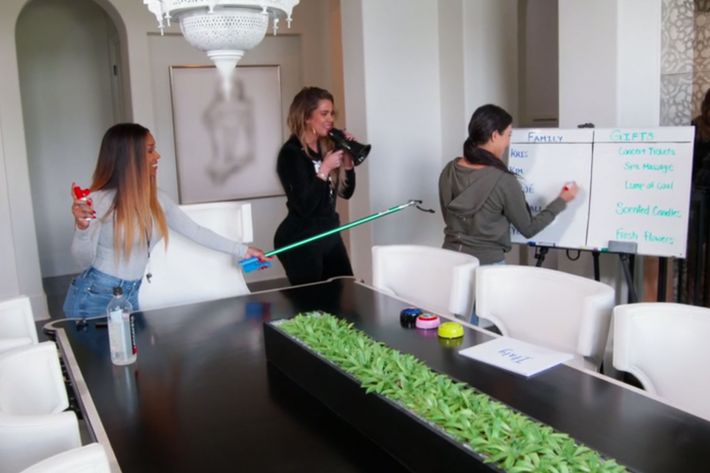 Scene 13:
In New York City, it's time for the main event: Kanye's Yeezy fashion show. Both Kylie Jenner and Anna Wintour are there to support the rapper-turned-aspiring-fashion-mogul Kanye West. Before the show Kim admits that she's not seen any of the pieces for this line, so she'll be surprised along with everyone else. She also tells Kanye that she's said a prayer for a great show; her husband appreciates the support. As expected, the show is weird, with the models first being seen only via a screen on an elevated cube, and finally walking out for the finale. Kanye's fashion show was filmed on February 15, 2017.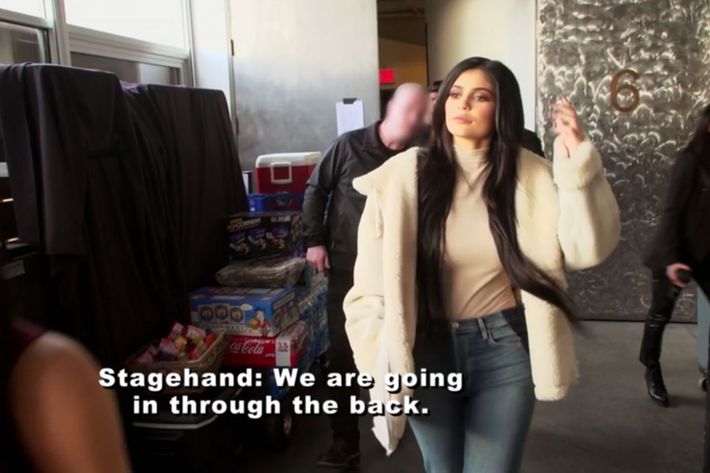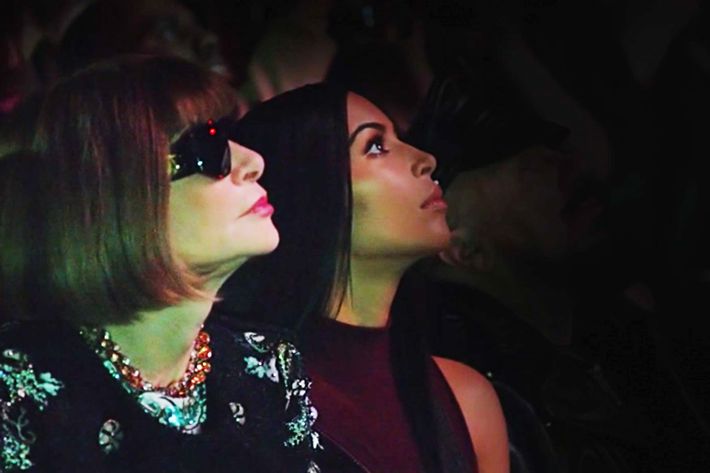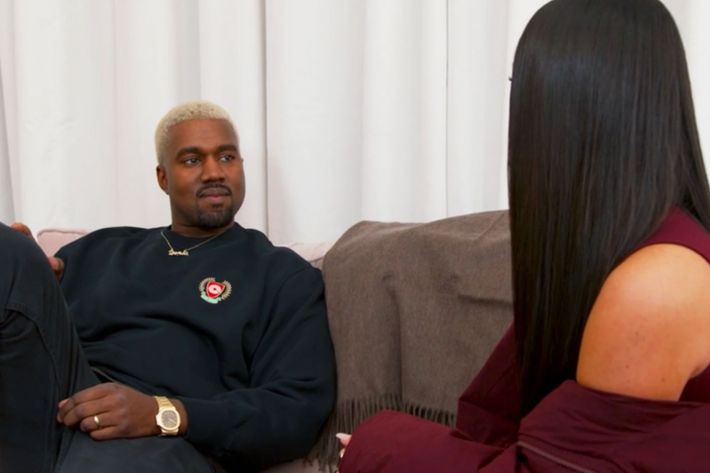 Scene 15:
Because Kourtney's story line about being indecisive needed a completely absurd climax, Khloé takes Kourtney and Kris to a local firehouse to learn how to save people from a burning building. Khloé's set this up in place of their usual workouts and thinks it will teach Kourtney how to act fast, all while burning calories! While suited up, Kourtney and Khloé try to save their damsel-in-distress Kris Jenner, climb ladders, knock down doors, and pose in their new #Fire Lewks. Kourtney may never need to put out a fire of her own, but she enjoyed the activity. This scene was filmed on March 25, 2017.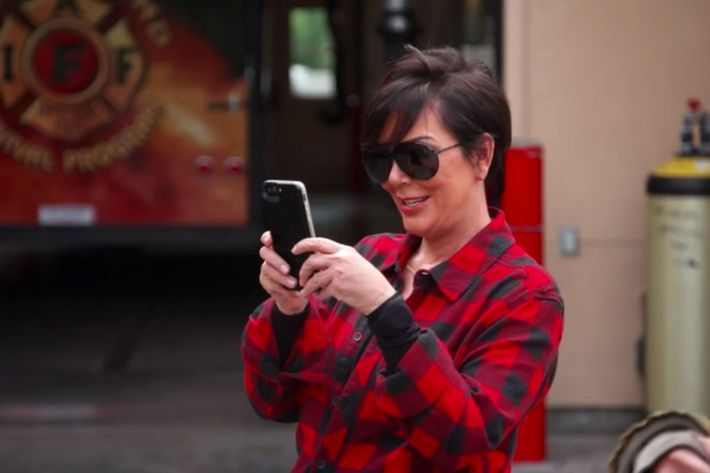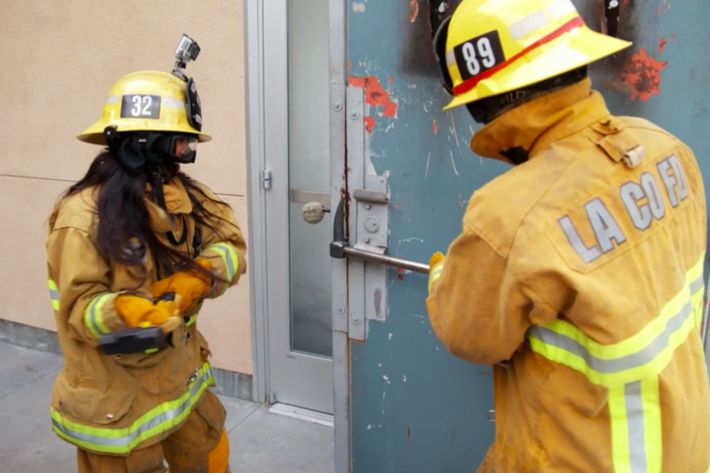 Scene 17:
Kourtney, Kim, and Khloé all congregate in Khloé's kitchen. Kourtney's called the sisters together to talk more about how hard it is for her to make a decision. She's actually learned from Khloé's insane exercises, and wants to become a more decisive person. Not only has Kourtney learned from Khloé, but she's also learned from a Tony Robbins documentary called I Am Not Your Guru that she recently watched. After viewing, she realized that she and Scott were extremely co-dependent and making decisions as a single unit is still a struggle. Call me crazy, but Kourtney could have also gotten these Tony Robbins tips from the 12-hour-long Tony Robbins seminar she attended with her family on March 23, four days before this scene was filmed on March 27, 2017.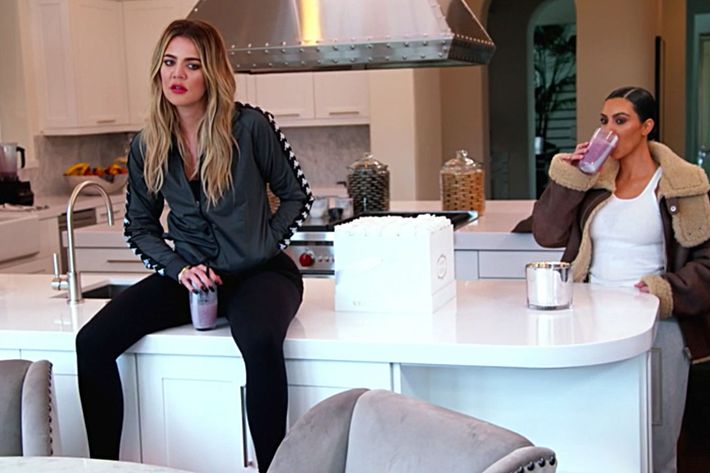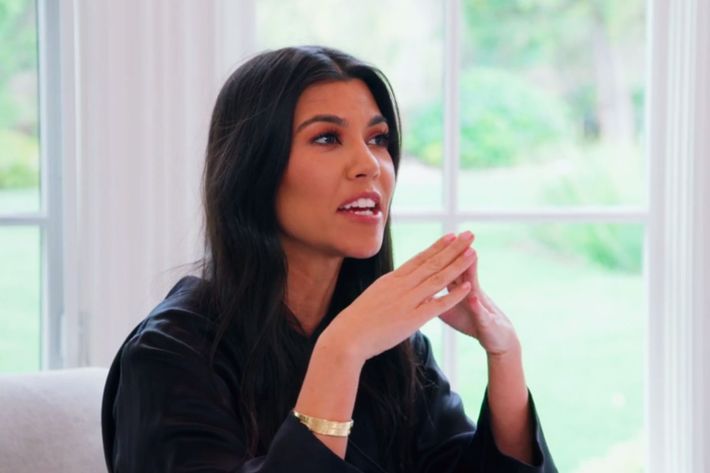 I know the journey was swift, but that's all for this week, Dolls. Don't be fucking rude and join me next week for another #KUWTKE recap of Keeping Up With We Need to Give Kourtney a Story Line ASAP Because the Season Is Almost Over. #DECISION