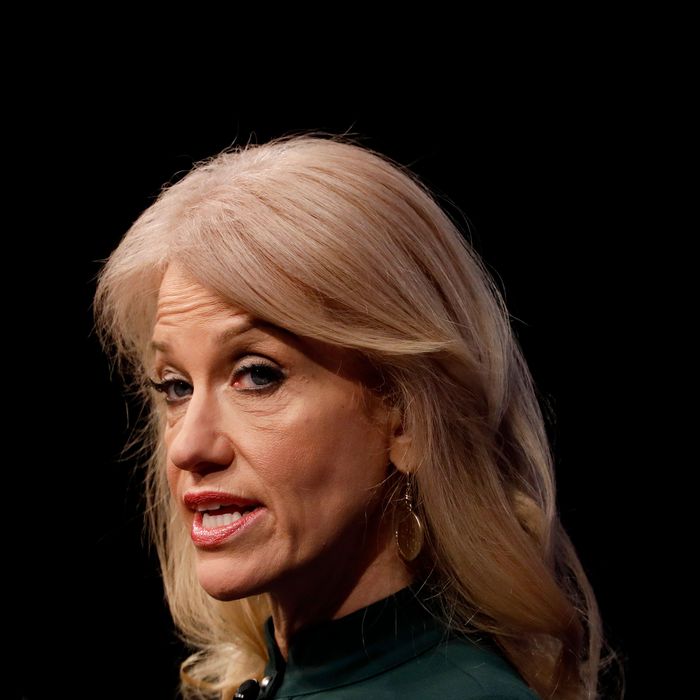 "I don't consider him my peer."
Photo: Aaron P. Bernstein/Getty Images
Kellyanne Conway would like you to know there are actually some upsides to being a woman in the White House, thank you very much — especially if you're a "non-feminist." In fact, she told Business Insider, it gives her an advantage in at least one particular way.
"I could tell you a great way that my gender has helped me with the president … I'm actually unafraid to express my mind, but I do it very respectfully. Very respectfully and very deferentially," she said, later adding, "I think there's a femininity that is attached to the way one carries herself or the way one executes on her duties."
Despite being a White House counselor and the former manager of Trump's presidential campaign, Kellyanne Conway still doesn't refer to President Trump by his first name. "I don't consider him my peer, he is my boss and he is my elder … so I don't address him by his first name," Conway said. "That has actually allowed me, in my view, to respectfully but forcefully express my opinion on certain matters."
Conway also told BI that she identifies as a "post-feminist, anti-feminist — a non-feminist, definitely," and added that she thinks the current wave of feminism is "anti-male." She also said that the way she's treated by the media is sexist in and of itself.
"Go and take a look at the way I'm treated and tell me it's not sexist, tell me it's not based on my gender. When's the last time you saw a great story about the beer bellies and the bad comb-overs in Congress versus what was I wearing or what was a female saying or doing?"
Conway recently took to Twitter to defend herself against accusations from the Morning Joe show that she was "disgusted" by Trump and "just doing this for the money." She wrote on Twitter via the Notes app, "It is a privilege to assist President Trump in the White House, just as it was during the campaign. I know him, I respect him, I believe in him, and I am confident in his capacity to be a transformative and successful President."