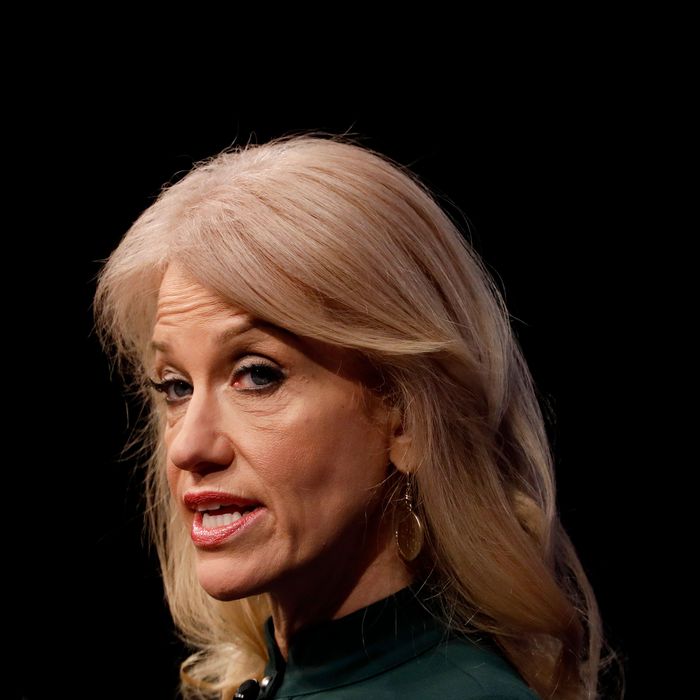 Kellyanne Conway.
Photo: Aaron P. Bernstein/Getty Images
On Monday, Morning Joe co-hosts and co-fiancés Mika Brzezinski and Joe Scarborough said they got the impression Kellyanne Conway was not all that enamored of her boss Donald Trump when she would appear on their show during the presidential campaign. "She would get off the air, the camera would be turned off, the microphone would be taken off, and she would say, 'Blech, I need to take a shower,' because she disliked her candidate so much," Brzezinski claimed, also implying that Conway's off-camera attitude made it seem like she was "just doing this for the money."
Conway took to Twitter to refute the claims, and while it was not so serious as to warrant the use of the Notes app, she did go with the "screengrab a big chunk of text" method.

"The notion that I am serving for 'the money' or a 'paycheck' is absurd. As campaign manager, I made a fraction of what other consultants have made on unsuccessful presidential campaigns. Then I walked away from dozens of opportunities for millions of dollars, and instead walked into the White House. I would do it again," she wrote in part. "It is a privilege to assist President Trump in the White House, just as it was during the campaign. I know him, I respect him, I believe in him, and I am confident in his capacity to be a transformative and successful President."
Conway is still banned from appearing on Morning Joe.