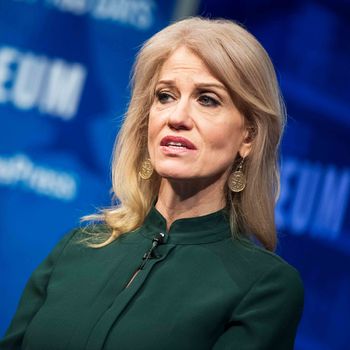 Kellyanne Conway was not a fan of Anderson Cooper's eye roll.
Photo: Tom Williams/CQ-Roll Call,Inc./Getty
On Tuesday, Kellyanne Conway made a triumphant return to the airwaves to discuss the circumstances around President Trump's firing of FBI director James Comey. When Anderson Cooper showed her several clips of then-candidate Trump praising Comey, Conway responded with, "You're conflating two things that don't belong together." She went on to discuss Trump's strategy in Michigan — which he won — at which point Cooper rolled his eyes dramatically:
Conway responded to the eye roll on Thursday during an appearance on Fox & Friends. And naturally, she linked it to sexism.
"Hillary Clinton is in search of sexism as a lame excuse for why her disastrous candidacy and campaign lost six months ago," she said. "[But] I face sexism a lot of times when I show up for interviews like that."
She went on, "Could you imagine … having a male anchor on the network roll eyes at Hillary Clinton [or at] a female spokesperson for President Obama or President Bill Clinton? I think not."
In the past, Conway had called a Morning Joe report and a BuzzFeed News article about her sexist — "And I'm not one to run around screaming about sexism," she added in the latter case.
Of course, if she's comparing Cooper's reaction to her with Cooper's hypothetical reaction to a Democratic spokesperson, a better word than "sexist" might be "partisan."