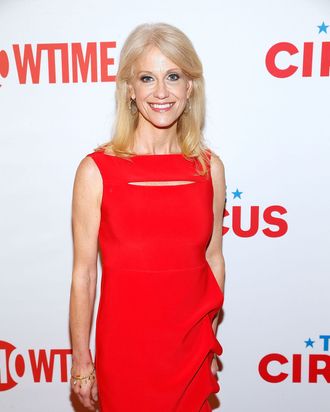 Kellyanne Conway isn't missing, okay?
Photo: Paul Morigi/Getty Images for Showtime
If you haven't seen Kellyanne Conway citing made-up tragedies or endorsing the First Daughter's clothing line on television lately, it's definitely not because she was "sidelined" for repeatedly being "off message" — it's because you're obviously not looking for her hard enough.
TMZ caught up with the White House counselor on Tuesday in what appears to be an airport, and when the reporter told her that people have been missing her, Conway replied, "Where are they looking?"
"I was on Fox four times this weekend," she added while ascending an escalator. "Number-one cable station for a reason!"
She gave CNN a similar line in February when the station reported she'd been banned from the air, saying, "I've been invited on shows every day, including two Sunday shows — I'm trying to focus on other pieces of my portfolio." That same night, she told Fox's Sean Hannity that she was way too busy house hunting and checking out schools for her kids to make time for TV appearances.
So either she's expanding her "portfolio," she's house hunting, or she never left — choose your spin. But if she's waiting to be found, well, it might take a while.