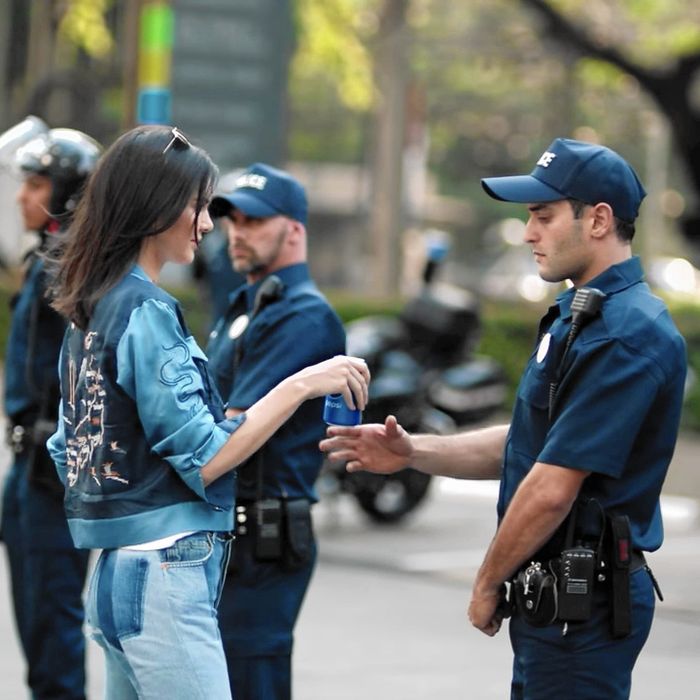 Kendall Jenner has yet to speak out about her involvement in the most tone-deaf Pepsi ad of all time, but according to sister Kim, she totally feels super bad about it, okay?
"She totally understood at the end of the day and she felt really awful for it," said Kim in an interview with Andy Cohen on Watch What Happens Live, adding that "she just wants to move on from it."
The ad, which features Kendall Jenner handing a policeman a carbonated beverage during a political protest, was pulled from air after being widely criticized for co-opting and trivializing the Black Lives Matter movement. Kim herself was diplomatic when asked about her own views on the ad, explaining that her opinions were colored by the fevered backlash surrounding it. "I didn't see it until it had already gotten the attention, so you obviously have a different perspective when everyone's just saying something," she said.
Still, Kim claims that Kendall never meant to offend anyone. "I think any time someone does anything they don't have bad intentions — especially Kendall, who's so sensitive," she said. "She would never mean for anyone to perceive anything in a negative way."
How does Kendall feel about other recent media gaffes such as her Vogue India cover, her involvement in Fyre Festival, and her controversial use of jorts? As always, we await comment from her publicist, Kim Kardashian.