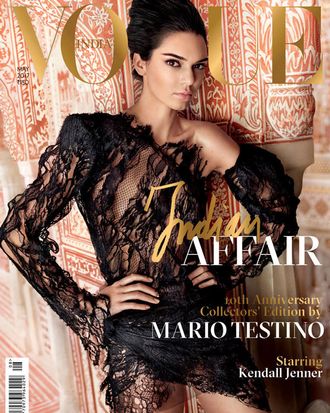 Kendall Jenner on the cover of Vogue India.
Photo: Mario Testino/Vogue India
Kendall Jenner may have an enviable life — full of jorts, jet-setting, and precariously transparent Met Gala gowns — but it's been hard to be jealous of her the past few weeks. To recap: She's starred in a tone-deaf Pepsi ad, had some kind of mysterious falling-out with longtime stylist Monica Rose, and oh yeah, she was involved with the disastrous Fyre Festival. The latest in the Kendall backlash: She appeared on the cover of the new issue of Vogue India, photographed by Mario Testino, and is already embroiled in a new controversy, according to Women's Wear Daily. Some readers wrote in that they would have preferred to see an Indian model on the cover. Wrote one on the magazine's Facebook page: "Why not an Indian model there are so many??? This doesn't create the sense that India has its own beauty and character." Another suggested Priyanka Chopra or Deepika Padukone as better potential cover stars, and there were complaints that Jenner has not promoted the cover thus far on her Instagram.

This isn't even Jenner's first time angering people via an international edition of Vogue. Her video shoot for the magazine's Spanish edition this fall ticked off ballerinas due to her lack of ballet training.

Update, 5/10/17: A rep for Vogue India directed us to its official statement, posted on its website:

Following all the talk about our cover, we felt that a few clarifications were in order. 1. We have lined-up a series of special issues for this entire year to celebrate our 10th anniversary, starting with the May 2017 Collector's Edition, which is not the anniversary issue. The actual 10th anniversary is October 2017.
2. In the last 10 years, Vogue India has had only 12 international covers, including Kendall Jenner, in 2017. Therefore, statistically, 90 per cent of our covers are Indian! And we are proud of that.
3. India has given the world so many beautiful faces to admire. After all, we are Vogue, an international brand, and we want to give the love back by featuring some of the best international celebrities on our covers. Occasionally!