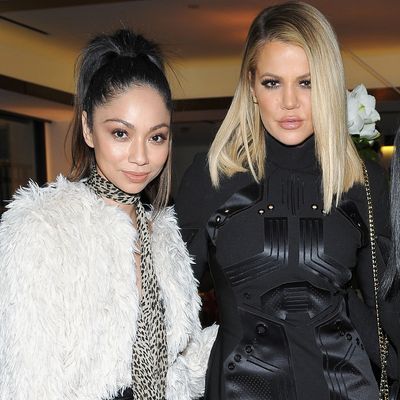 Monica Rose (left), Khloé Kardashian (right).
Photo: Donato Sardella/Getty Images for The Hollywood Reporter
Last week, it was revealed that the Kardashians had recently parted ways with their longtime stylist of ten years, Monica Rose. Now, "Page Six" reports that Khloé Kardashian is "furious" and wants to sue Rose over the "mysterious circumstances" that led to the split.
Rose began working with Kim Kardashian after a Complex magazine shoot in 2007, and quickly became a fixture among the Kardashians, Jenners, Hadids, and their extended circle of friends. People reported last week that Kim and Kourtney had been looking for a new stylist to collaborate with for some time now, while Khloé was the last holdout among the family. The reasons behind the family's split with Rose are unknown, though the schism was apparently "sudden" and began several weeks ago.
Per "Page Six":
"The Kardashians/Jenners are upset because [Rose] was like family to them," said a source.
The gossip column reports Khloé is considering suing Rose, though the stylist maintains she's done nothing but a good job for the family. Rose is apparently still working with other big-name clients, including Chrissy Teigen and Cara Delevingne, in the meantime. Representatives for the Kardashians and Rose didn't respond to "Page Six," so stay tuned as the mystery continues to unfold.