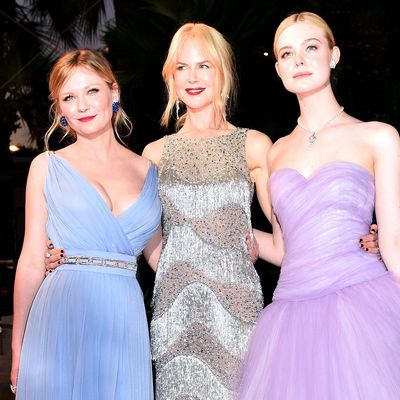 The Beguiled cast.
Photo: 2017 Anadolu Agency/Getty Images
Shooting a film usually sounds like kind of a hassle, but Vanity Fair's interview with Sofia Coppola, Elle Fanning, and Kirsten Dunst about their new film The Beguiled (which also stars Nicole Kidman and Colin Farrell) makes it sound more like a dream vacation.
Director Sofia Coppola assembled a stacked majority-female cast for the project: a gender-flipped adaptation of the 1971 Clint Eastwood film about a Union soldier who causes drama at a Southern all-girls boarding school. Regularly "erupting into peals of laughter" as they spoke, the cast describe rehearsing at an old house in New Orleans's french quarter, where Coppola made them take sewing, dancing, and etiquette lessons, and even hired a Civil War reenactor to teach them how to bandage a wound.
And it sounds like the boarding-school vibe extended to their on-set antics. One day, the cast made an 1860s-era "Girls Gone Wild" video, which featured them running around in their lace dresses and brazenly flashing their ankles while drinking out of red Solo cups. ("Maybe we'll include it on the DVD extras," joked Dunst.) Another day, they did a "sexy calendar" shot with Colin Farrell, taking photos of him as he posed shirtless with gardening tools. Just listen to them bantering about it:
"He was hamming it up," said Coppola.

"Topless," said Fanning, "with hoes."

"It's great we get to objectify men," deadpanned Dunst.
Forget tropical all-inclusives: Prancing around in period garb with Kirsten Dunst is the only way I want to spend my recreation time from now on.