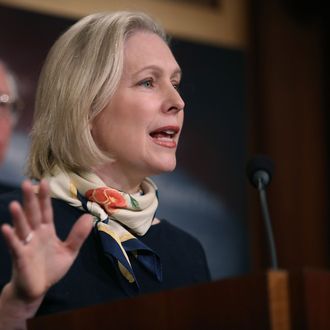 Kirsten Gillibrand says she won't be challenging Donald Trump in 2020.
Photo: Justin Sullivan/Getty Images
Less than a month after Hillary Clinton lost the presidential election, the lists went up: Ten Potential Democratic Candidates for 2020; 11 Democrats Who Could Defeat President Trump in 2020; Which Democrats Will Run for President in 2020? And every list had at least one name in common: Kirsten Gillibrand. Given her outspoken opposition to President Trump and his appointees, many have speculated that Gillibrand is positioning herself for a White House bid. "It would not surprise me if Kirsten were a candidate for higher office some day," Susan Collins said of the New York senator.
Gillibrand has demurred before, saying she'll focus on getting reelected in 2018. But on Monday, she gave her most definitive denial yet. During a stop at Fort Drum in Jefferson County, New York, Gillibrand told reporters she's "dedicated to serving our state as our senator, and I'm running for reelection so I can continue to be their senator."
Does that mean she's ruling it out?

"I'm focused entirely on running for Senate, so yes, I'm ruling it out," she said.
Which is not quite as direct as Joe Biden's "Guys, I'm not running," but it gets the point across.