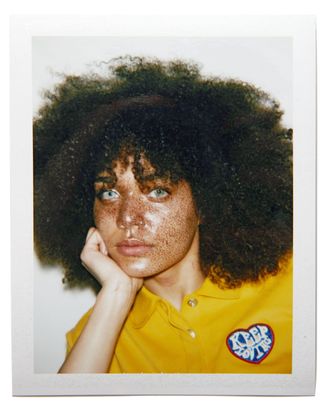 Kokie wears Tommy x Gigi.
Photo: Lucas Michael
The model Kokie Childers got her moniker because her father had a crush on newscaster Cokie Roberts. (She goes by her middle name — her real first name is Rae-Anne.) With a mom in the military, she grew up all over the world: the Virgin Islands, Germany, Virginia. With her striking blue eyes, freckles, and curly hair, she was often asked to model, but, she says, "I just blew it off." Until last summer, that is, when photographer Hugh Morris tapped her for a shoot featuring freckled people of color. Though she's a full-time student at St. John's University, majoring in biology, she is now pursuing modeling in a serious way. And thankfully, her freckles have been seen as an asset, not an imperfection: "No one's ever tried to cover them," she says proudly.

If you were a magazine, what magazine would you be? I don't really read magazines.
If you could speak to animals, which animals would you want to talk to? Bunny rabbits: I have a bunny tattooed on my arm. I had one for five years. Horses: they just seem so peaceful and insightful. Dogs: I have a husky and I love to talk to him. Frogs: there's a frog in Puerto Rico named the coquí frog, and some people think I'm named after him. Birds: to see how they see the world.
Sneakers or slippers? Slippers, because they're easier to get on and I'm a lazy person.
What's something your social-media followers don't know about you? A lot of things, because I'm very selective with what I reveal about myself. But I guess one big thing was that I had a lazy eye when I was younger.
What was the last website you looked at? I Googled horoscopes.
If you could be outfitted by one designer for the rest of your life, who would it be? I did something with Sami Miro back in October, and she's a dope stylist.
What time is your alarm set for in the morning? Normally, I try to wake up at 6. But I have multiple alarms before then.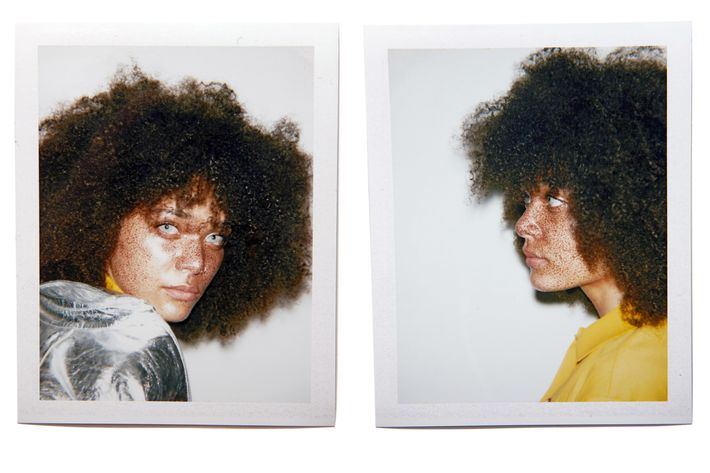 What do you eat for breakfast? I don't always have time to eat breakfast, but when I do I like muesli, with coconut or almond milk. I like tea, because it calms me. And fruits: bananas, strawberries.
If you had only three things you could eat for the rest of your life, what would they be? Dark chocolate, spinach, and passionfruit.
Fuck /Marry/Kill? James Dean/James Dean, again/I'm not a vengeful person.
Person you wouldn't mind being trapped in an elevator with? James Franco. I used to be obsessed with him.
If you could tell Donald Trump ONE thing and make sure he would listen, what would it be? I would tell him that there's another side of experience in America that he won't ever be able to understand, and that there's a different way he could go about respecting people and doing his best to meet their needs. Try to have some empathy.
If you were a color, what color would you be? I would be orange. That's my favorite color.
Kokie wears Tommy x Gigi Cropped Polo $49.99; Tommy. Edun Metallic Cropped Jacket, for similar styles at Edun.