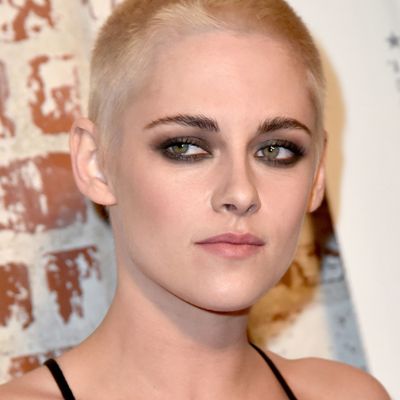 Kristen Stewart.
Photo: Frazer Harrison/Getty Images
Kristen Stewart already has two short films under her belt as a director, including one she referenced in a recent research paper on artificial intelligence. And now, the DGAF actress's third directing project has finally been released: An artsy new music video for the band Chvrches to benefit Planned Parenthood.
As Flavorwire reports, news that Stewart had directed a music video for Chvrches' song "Down Side of Me" had been announced in early April. A studio version of the song appeared in Chvrches' latest album, Every Open Eve. However, Stewart directed a video for a live version of the track, which appears on 7-Inches for Planned Parenthood, a 7-inch compilation that benefits the organization. The album also features tracks from Stewart's recent ex St. Vincent, as well as Björk, Mary J. Blige, Sleater-Kinney, John Legend, Margaret Atwood, Jenny Slate, Margaret Cho, and more.
Stewart's understated yet artistic video includes soft close-up shots of Chvrches frontwoman Lauren Mayberry's hands and face as she sings the live version of the track, as well as wide shots of the band performing the song in the studio.
Watch the full video here: