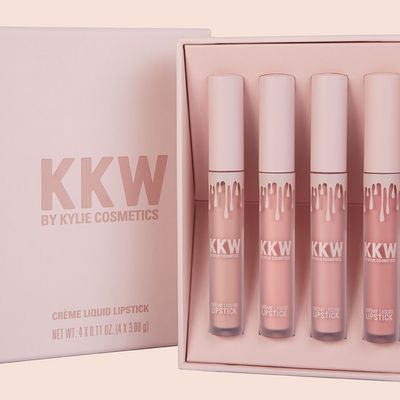 KKW Kylie Cosmetics Lipsticks.
Was it only 2015 when Kylie Jenner was absolutely not dating a fully grown man (she was 17 at the time, and he — Tyga — was 25) and her lips launched a thousand terrifying photos known as the Kylie Jenner Lip Challenge? Ah, times do change. Now Kyga is no more and Jenner's a cosmetics mogul, thanks to her mesmerizing social-media posts (she notoriously does not purchase ads). The beauty-porn level Lip Kit swatches that she shares on Snapchat and Instagram are Kylie Cosmetics' prime marketing tool, and in an interview with Fast Company for their Most Creative People in Business issue, Jenner revealed the muse behind those hypnotic videos:
Everyone knows when I'm releasing a product on Snapchat that I will be MIA for the next hour and a half. I'm running around my house, finding the perfect lighting, the perfect swatches. My housekeeper, I use her arm for my Snapchats. She has the best arm for swatches. She's so nice and just sits there and has her arm ready and lets me do my thing. I care a lot about what my products look like when people first see them.
It's estimated that Kylie Cosmetics has raked in $400 million in revenue since its launch. Maybe it's time to cut the unnamed housekeeper in?