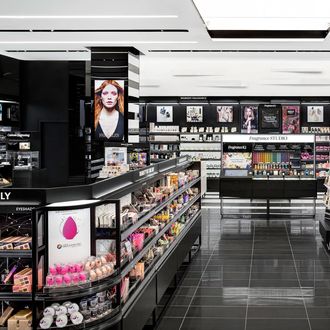 Sephora's 34th Street store.
In the herstory of the world, there were a few moments in which human minds were overawed by the technological innovation and monumental engineering of an architectural wonder. The Eiffel Tower, for example. Apparently, people were just like, "What the fuck is that? I'm just an insignificant speck, dwarfed by this temple of modernity" whenever they saw it. Also the pyramids.
But in the current age, is there a structure that symbolizes the untrammeled majesty and complicated potential of the human condition? The answer is yes! The largest Sephora EVER (in North America), which is conveniently located right across the street from Penn Station. I recently spent two hours there.
This Sephora is so gigantic that from any angle you can't see all the way to the back. It's a cavern that continues and continues and is filled with roller balls of perfume as far as the eye can imagine! It feels simultaneously extremely crowded and full of women screeching about La Mer eye cream, and also not crowded, because the space is so large that it muffles both sound and foot traffic, like the bottom of a pool.
In my experience, Sephoras are usually small and loud, like a very rowdy closet. I am always pale and oily, and the overhead lighting makes me look like Silly Putty that has been stuck to newspaper and then dried out in the sun. I get grossed out by people using the trial makeup, and then I use the trial makeup right after them, like some kind of robot! I buy a mascara for 40 dollars and then I leave. This usually takes me seven minutes and I get elbowed two times.
So, how did I spend two hours in this Sephora? The time flew by as if it had no markers.
I arrived on a Thursday after work, thinking I would stay for approximately 13 minutes. I would take a cursory look at its gargantuan nature, find it to my satisfaction (it's so much bigger than other Sephoras!), and then leave. But in this Sephora, it's not possible to "just leave" because, from the minute you enter, the door is barricaded by a swell of women who are all putting on Urban Decay blush at the same time, and you would have to fight through this barricade as if it were the Bastille. And so: You might as well habituate yourself to your new home.
Luckily, there are plenty of things to do in your new home. I took a "no-makeup makeup" class, which was held at a beautifully lit table in the middle of the store. At least six other lost women were there taking the class, because Instagram is a fucking curse. What is "no-makeup makeup"? Is it clear makeup that resembles a translucent raincoat? Or something else entirely?
I didn't know until I took this class but "no-makeup makeup" involves a ton of makeup, including a green primer and a clear primer and a powder that you tip onto a beautiful bushy brush and apply to your face to make it "matte." One of the girls in the class was getting increasingly agitated about whether to purchase a new kind of concealer. She kept asking the instructor (a very nice woman who explained what primer was to me without a hint of condescension) whether her concealer was too orange. (It wasn't, but in some lights it was.) I don't know how long this took. At some point it ended.
But if you think this Sephora is just a constant stream of no-makeup makeup classes in a setting that is the size of the Grand Canyon — you would be wrong. There is so much more to it than that! After a while it is sort of like walking through a dream: There are so many people, and you feel trapped because you can't see the entrance, but the store is so big that no two people can congregate that closely to each other, and there are so many skin-care products you have never seen before. There are also a lot of hypothetical simulations of makeup, which is something that appears in my dreams a lot.
I tried a new Sephora technology exclusive to this store called Tap and Try, which allows you to try on every kind of red lipstick via a computer simulation. (Spoiler alert: They all look bad no matter what.) Then a very perky Sephora employee took something called the Moisture Meter (also exclusive to this location), which looks like a large computerized pregnancy test, stuck it onto my face, and measured the moisture in my skin. At first, my face was 99 percent moisture (oil) but then someone measured it again two minutes later and it was only 47 percent percent moisture (oil). I believe both numbers.
Soon, I had to go eat dinner and it was my hunger that eventually removed me from my dreamlike state. I had purchased two moisturizers for my two different oil levels, and a green primer. I wandered out, starving but newly energized. I had seen a marvel of the world, full of treasures and no make-up makeup and French-girl lipstick and beachy hair, all of which require a ton of work. It was like Mount Rushmore except I learned something.