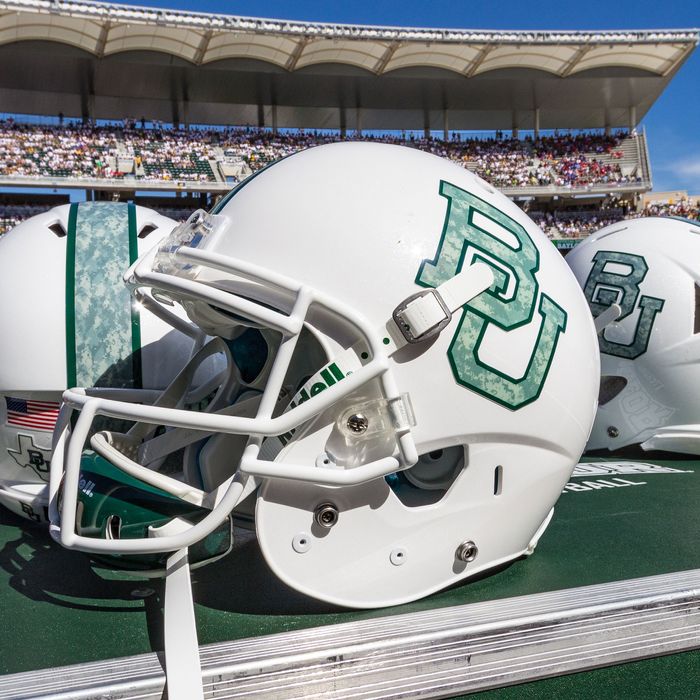 This is the most recent of many lawsuits filed against Baylor University.
Photo: Matthew Pearce/Icon Sportswire/Getty Images
Last year, Baylor University's athletic director and president were both fired for mishandling multiple rape allegations after it was reported that the director, at least, knew about the claims and did nothing. But this year is shaping up to be equally turbulent for the school. In January, an alum filed a lawsuit alleging football players gang-raped her in 2013; in early May, a fraternity was suspended for throwing a racist party; and on Wednesday, another Baylor alum filed a lawsuit that says players regularly gang-raped women as a "bonding experience."
The most recent lawsuit was filed by "Jane Doe," who alleges four football players gang-raped her at a party in 2012. According to the suit, she was carried into an apartment, raped by several men, and subject to "verbal abuse and public humiliation." One player "taunted Plaintiff with claims that a Baylor football player had taken nude photographs of Plaintiff and other Baylor football players during the gang rape."
It adds that gang-rape was a regular practice for football players. From the Waco Tribune-Herald:

According to the suit, the football team had a system of hazing freshman recruits by having them bring freshman females to parties to be drugged and gang raped, "or in the words of the football players, 'trains' would be run on the girls."
This is the school's seventh Title IX lawsuit; the school said it had been in conversation with Jane Doe's lawyer for "many months" to try to reach a settlement. "Baylor maintains its ability to present facts — as available to the University — in response to the allegations contained in the legal filing," the school said in a statement. "The University's response in no way changes Baylor's position that any assault involving members of our campus community is reprehensible and inexcusable."
As the Tribune-Herald points out, a district judge ruled in March that sexual-assault victims have until 2018 to come forward with Title IX cases against the university. It's unclear whether more lawsuits will follow, but based on the claim in one that at least 52 rapes by at least 31 players occurred from 2011 through 2014, it seems likely.