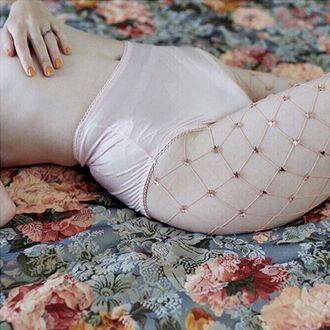 Photo: Courtesy of Instagram/lirika.matoshi
Fabrics, fishnet tights, colorful gems, and floral appliques are scattered on a big table inside Lirika Matoshi's Bronx studio. It's messy, but the designer insists she likes it this way. "It's very chaotic, but I'm the only one who can find things very easily because I love every detail we have in the studio, and I love taking care of them!"
When Matoshi came to New York City from her native Kosovo to try to get into Fashion Institute of Technology as a student a little over a year ago, she didn't expect to be rejected from the school. However, she wasn't expecting to start a powerhouse niche business of extremely detailed, embellished fishnet tights, either.
"I was really upset, because I had wanted to get into fashion school," she says, over the phone. "But now people from FIT are calling and asking to be my interns."
Matoshi takes inspiration from the outdoors — a starry night sky, various types of flowers and greenery, insects like ladybugs — to create gorgeous fishnet stockings worthy of a high fashion editorial. They're highly detailed, completely unexpected, and unlike anything else. Take, for example, a pair of electric turquoise fishnets, which the designer embellished with vine trim, colorful fabric flowers, and delicate crystals. Another light blue pair is shockingly intricate: Three-dimensional glistening flower appliques in every shade of the rainbow are clustered down the side of the tights, along with leaves, butterflies, pearls, and gems. Even her best sellers, a pair of classic black fishnets covered in daisies, have a special attention to detail: Each flower contains pearlescent stacked daisy petals, a few yellow beads, contrasting green gemstones as leaves, and scattered pearls throughout.
The 20-year-old started designing chokers, gloves, and headpieces — one of which was worn by singer Elle King, who reached out to Matoshi — a year ago. But the idea for the fishnet tights came to her spontaneously only three months ago.
"I had some fishnets in my closet, and then I just tried them out, put flowers on them, and took a picture of them," she says. "I didn't expect to sell them, I just made them for fun. A lot of people on Instagram really wanted them, and they asked me if I could sell them." The tights retail from $150 to $350 for a more detailed pair that has embellished rips, with gemstones of various colors elegantly placed along the edge of each rip. Each pair takes up to two hours to make in her Bronx studio, where she collaborates with friends or family while listening to music and cooking — "also my passion," she says. "The prices are highly reasonable for what we do!"
Instagram has been a huge tool when it comes to the designer's success. When Matoshi first began adding the embellished fishnets to her Etsy store and continued to post photos on Instagram, widely followed accounts like jasoncambellstudio (349k) and artsxdesign (639k) posted her work and credited her more than once. After gaining a slew of new followers on her own account, Matoshi had so many sales that her family started chipping in.
She and her sisters, who are all artists, make the finished products by using a heat press machine to attach gems to the delicate tights. If it sounds DIY, that's because it kind of is. Matoshi explains: "The making process takes a lot of time and effort and detailed work. We are providing the highest quality of tights, everything is handmade, and each single flower that is attached in the tights is made by hand. I created a worldwide trend, and most importantly, I came up with a really unique idea of using a certain machine that attaches all these details on the tights, which is our secret recipe," she explains.
Her Kosovo-based fashion-designer sister, Teuta Matoshi Duriqi, who creates colorful special-occasion gowns, helps her the most by sourcing the right kind of gemstones. These could be anything from red and black crystals to create a ladybug design, or small stars that aren't too overpowering on a set of nude fishnet tights.
In addition to Elle King, Dua Lipa, who like Matoshi is a Kosovo native, has worn her fishnets. The designer is also in contact with Nicki Minaj, Rita Ora (who has Kosovar roots) and Noah Cyrus, all of whom are clamoring to get their hands on a pair. "Dua Lipa is from my city, and she loved them," Matoshi says. "I reached out to her because it was very interesting for me because we're both from the same city. Elle King and the others reached out to me."
"I'm focused on my brand first, because I don't want to work with such people without having my brand," she says, referring to celebrity fans. To her, that means starting to sell her products through her own website instead of Etsy, among other things. "I want to do everything perfect. I'm trying to go slowly and carefully. It's too much for me to talk with all these people, and I just want to go slowly and I want to think about it."
You can expect to see Matoshi's work in places besides Instagram and the legs of celebrities. She's currently working on a collaboration with Converse on embellished shoes, and designing fishnets for the online shop Dolls Kill, both of which will be available in the coming months.