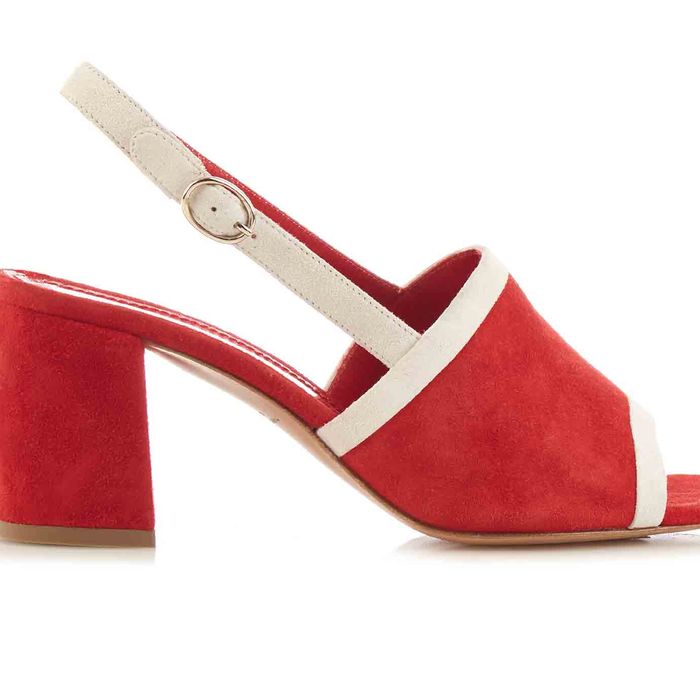 I should be kinder to my feet. I apply no less than ten products to my face day-to-day, a small-batch "body milk" to my torso, legs, and arms, but the body part that actually carries me from place to place gets little to no love. I never use foot cream, I rarely get pedicures, and I often jam my feet into painful, toe-cramming designs — my poor feet.
It's time for a change and I have a good excuse to preempt it: I'm lucky enough to be be traveling to Cannes next week. Yes, that Cannes — where people wear diamonds with their bathing suits and eat langoustines by clear blue water. My current shoe wardrobe is more appropriate for Uber and subways than yachts and Hotel du Cap, which is why these 1960s-inspired, ruby-red Mansur Gavriel sandals would be a good upgrade. The color is bright and fun, and more interesting than all the boring nude sandals out there. The white piping makes them look a little preppy, marine-y, sporty, and perfect for a seaside sojourn. The block heel is both on-trend, a little architectural, and more comfy than a flimsy stiletto (plus stilettos will ruin a yacht's lacquered teak deck, didn't you know?).
In my experience, luxury is not synonymous with comfort, but these sandals are well-cushioned, generous in width sizing so they won't squash your feet, and made with a buttery-soft suede to feel really fancy. They're expensive but not so prohibitively pricey that I'll have to eat ramen for a month. Although they're elegant, they're not so precious that I'll only be able to wear them for special occasions. They're also versatile enough that I'll be able to wear them at work and not just for weddings when I'm back in New York.