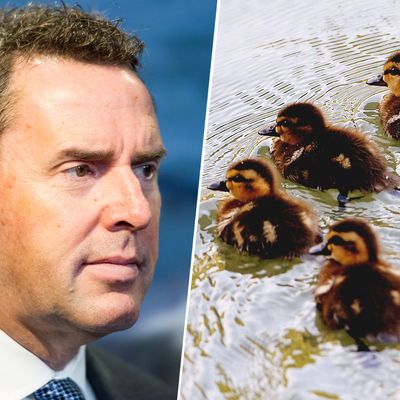 L: Congressman Mark Walker. R: Unnamed ducklings.
Photo: Getty Images
Amid bombshell allegations that President Trump passed along intelligence information to the Russians and asked James Comey to shut down a federal investigation of Michael Flynn, comes another piece of information that threatens our nation's democracy to its very core: There has been a teeny, tiny ramp installed at the Capitol Reflecting Pool to help ducklings safely get in and out of the water.
Pretty adorable, right? That's what they want you to think.
Fortunately Mark Walker, a Republican congressman from North Carolina, used his platform and political power to decry the duckling ramp as a waste of government funds.
Walker has since received over 3,000 replies to his tweet, many of them mocking him for his comment, which proves that the duckling lobby is much, much stronger than we thought.