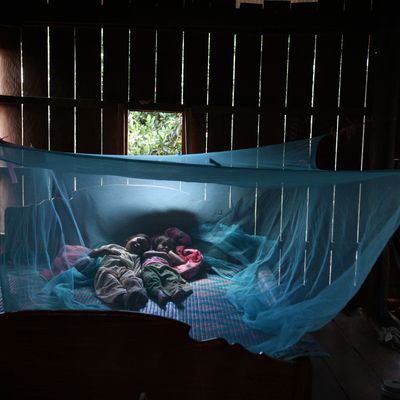 Photo: Paula Bronstein/Getty Images
Malaria is one of the biggest public-health catastrophes in the world, but also, in theory, one of the more straightforward to address. The disease kills between 236,000 and 635,000 people a year, notes a new study in Pathogens and Public Health, with 90 percent of those deaths occurring in Africa. But if you have basic access to certain resources, it isn't that hard to ameliorate the disease's impact — mosquito nets, for example, are a very effective deterrent.
In poor and conflict-ridden parts of the world, though, malaria can run rampant. One such country is the Democratic Republic of the Congo, so the study authors decided to survey the parents of 647 children there to better understand the connection between malaria diagnoses, maternal education, and other factors. What they found "was not a small effect," said Michael Hawkes, a professor of pediatrics at the University of Alberta and senior author on the study, in the study's press release. "Maternal education had an enormous effect — equivalent to or greater than the leading biomedical vaccine against malaria."
Specifically, "One hundred and twenty-three out of the 647 children in the study tested positive for malaria," as the press release puts it. "The prevalence of malaria in children of mothers with no education was 30 percent. If mothers had received primary education, that rate dipped to 17 percent. Mothers who had received education beyond primary school only had a 15 percent prevalence of malaria in their young children."
"It doesn't take a lot of education to teach a mom how to take simple precautions to prevent malaria in her child. All it takes is knowing the importance of using a bed net and knowing the importance of seeking care when your child has a fever," Cary Ma, a medical student at the University of Alberta and a co-author on the study, said in the press release. "These are fairly straight forward, simple messages in the context of health and hygiene that can easily be conveyed, usually at an elementary or primary school level."
Often, of course, awareness and education isn't enough to spark behavior change. But in instances where rather minor behavior changes can have profound outcomes — like whether someone's child lives or dies — education really does seem like it can have a massive impact.