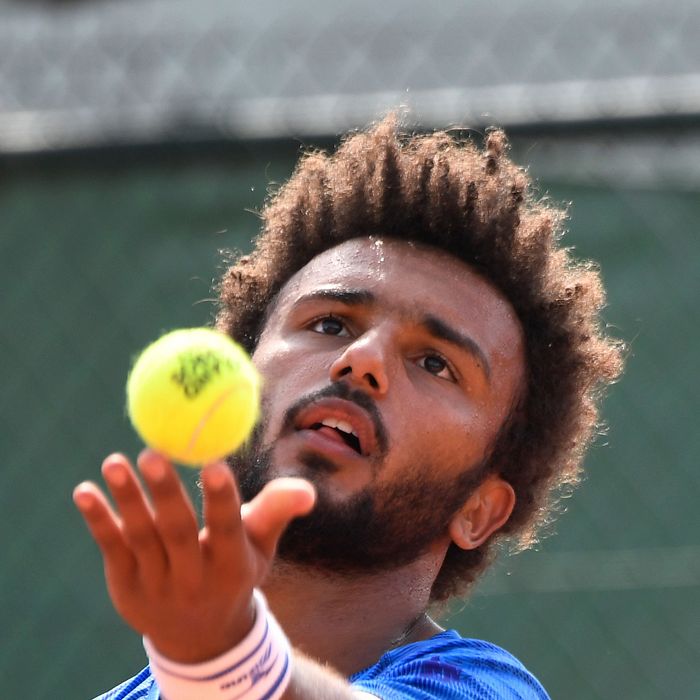 Maxime Hamou, who was granted a wild card into the French Open, was kicked out of the tournament on Tuesday.
Photo: Eric Feferberg/AFP/Getty Images
French tennis player Maxime Hamou has been banned from the French Open after he attempted to forcibly kiss a female journalist on live TV. The French Tennis Federation announced its decision Tuesday, calling Hamou's behavior "reprehensible," the Guardian reports, and he could face further sanctions after the FTT reviews the incident.
The ruling came after Eurosport reporter Maly Thomas interviewed Hamou following his first-round loss on Monday. During the interview, Hamou put his arm around Thomas's neck and repeatedly kissed her shoulder and head. She pulled away, but near the end of the interview he did it again, prompting laughter from Thomas's studio commentators.
Thomas described the whole thing as "frankly unpleasant" and added, "If I hadn't been live on air, I would have punched him."
In an interview with French newspaper L'Equipe, Hamou said he regretted the incident. "I want to offer my deepest apologies to Maly Thomas if she felt hurt or shocked by my attitude during her interview," he said. "I just lived a wonderful week here in Roland-Garros living my most beautiful emotions as a tennis player, and I let my overflow of enthusiasm express myself awkwardly towards Maly, who I know and sincerely respect." He added that his "mistakes" will make him a "better tennis player and a better person." That's nice.