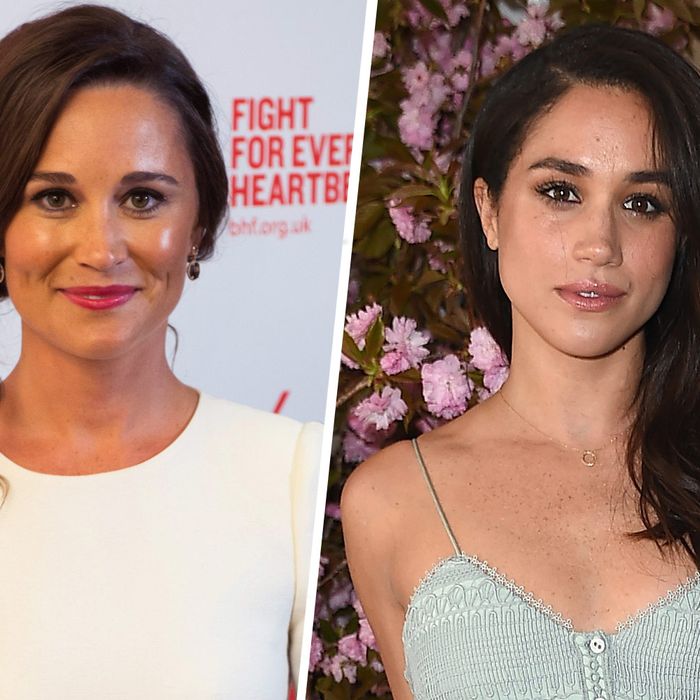 Pip and Meg.
Photo: Getty Images
With less than two weeks until Pippa Middleton's wedding to British man James Matthews, the question on everyone's mind has been: What about Meghan Markle? Middleton had reportedly instituted a "no ring, no bring" policy for her wedding ceremony — ensuring that royal girlfriend Markle (and also her fiancé's bad-boy reality-TV star brother Spencer Matthews's model girlfriend) won't be in attendance. However, the Telegraph reports Middleton is now making an exception for Markle, allowing the actress to attend without a coveted engagement ring.
The news of Middleton's change of heart comes shortly after Markle made her first public appearance with boyfriend Prince Harry this weekend. The actress attended one of his polo matches and pictures of the couple of ten months putting their heads near each other's in a parking lot (presumably kissing, but who knows) have been making the rounds, causing many to speculate that the pair is getting even more serious. So it's not too surprising that Middleton is now apparently allowing Markle to attend her upcoming May 20 wedding ceremony and reception, instead of merely the reception.
But perhaps Markle shouldn't feel too special about getting invited to the "exclusive" ceremony, since apparently every single person in Middleton's parish is planning on attending, as well.