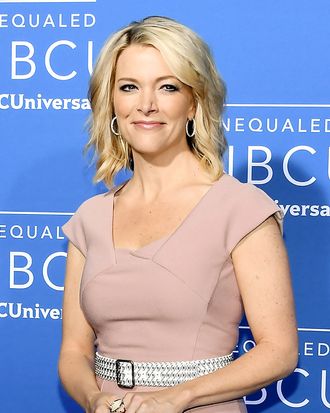 Megyn Kelly is finally done with the political churn.
Photo: 2017 Getty Images
After a tumultuous year in which she accidentally became a foil to the current president, helped take down former Fox CEO Roger Ailes, and wore a scandalous shoulder-bearing outfit to cover the Republican National Convention, Megyn Kelly said she's glad to be leaving the political arena. In an interview with Politico on the eve of her NBC show's launch, Kelly said she's "not going to miss the crazy news cycle."
"I was not born to be a political news anchor," said Kelly, who at Fox was known for her her hard-hitting nightly news show, The Kelly File. "I want to foster more human connections and make people feel something better than the constant outrage."
At NBC, Kelly will host a daily 9 a.m. morning show, as well as a Sunday news magazine show appropriately called Sunday Night with Megyn Kelly. According to the Los Angeles Times, NBC is "banking heavily on Kelly" to become an even bigger star than she was at Fox. Her show is in the same time slot at CBS's 60 Minutes, which recently hired Oprah as a contributor, reportedly in anticipation of Kelly's show.
But Kelly seemed confident that her personality and interview style will make her show competitive. "I will submit to you that I have my own irreverent style of covering the news," she told the Times. "I think the whole nature of the show feels a little more cutting edge … I think it's going to take a few more risks [with] where we go and how we cover these people."
She'll kick off the show this Sunday with an interview with Russian President Vladimir Putin, whom she said she questions about Russia's alleged interference in the 2016 election. "[It's something] we have to talk about," she concluded.