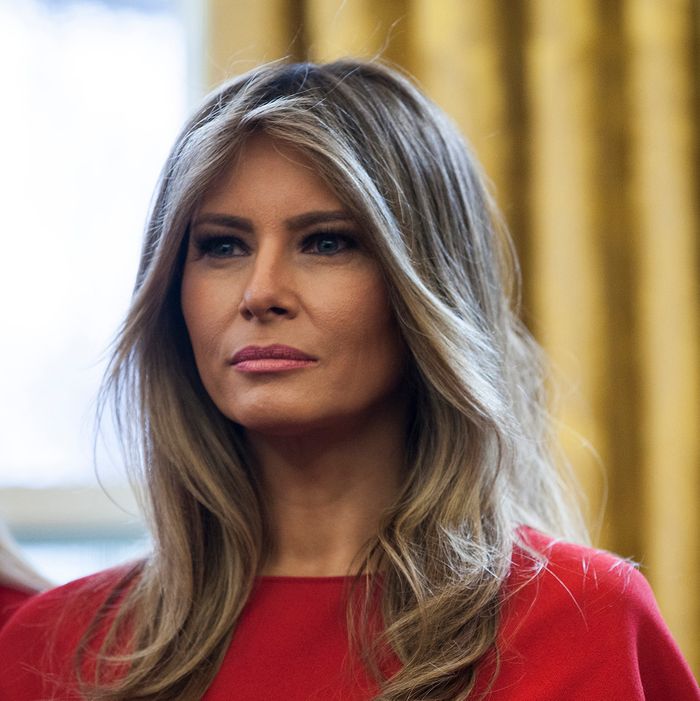 Melania Trump took some time to read her favorite book to kids on Thursday.
Photo: Zach Gibson/Getty Images
In his prolific career as a children's book author, Dr. Seuss wrote and illustrated 44 books. Many of his works, like The Cat in the Hat and Green Eggs and Ham, are such classics in children's literature. Melania Trump's favorite Dr. Seuss book (in case you ever wondered) is, curiously enough, Oh, the Places You'll Go!

We know as much because it's the book that Melania chose on Thursday when she took some time to read to a small group of children at New York Presbyterian/Weill Cornell Medical Center. (That, and a statement from her office declared the book is a favorite of hers and her son, Barron, CNN reported.) The First Lady was at the New York City hospital as part of the Read Across America project from the National Education Association, which takes place on Dr. Seuss's birthday every year.

"Do you know what is today?" Melania asked the group of kids in the pediatric center, according to CNN. "It's reading day. So it's reading day and I came here to encourage everyone to read, and to just think about books and what you want to achieve in life and just extend your horizon and think very, very outside of the box."

Oh, the Places You'll Go! ranks among the top-ten best-selling of Dr. Seuss books, though it was the last one published during his lifetime, according to the Washington Post. The story famously explains how a person's life is filled with infinite possibility, and it's regularly gifted to anyone starting a new phase in life. Which, if we're talking about big transitions, Melania Trump is certainly undergoing her own as First Lady. Subtle choice?