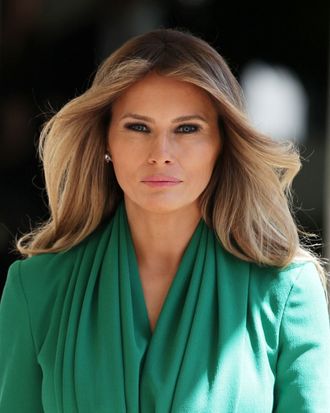 Melania Trump was "not aware" of the fave, apparently.
Photo: Alex Wong/Getty Images
Melania Trump's Twitter has produced some glorious things: a psychopathic rabbit, many self-portraits, and at least one picture of a beluga whale. And on Wednesday night, it gave us yet another gift: the gift of solidarity. Specifically, Melania Trump's Twitter account — yes, her real, verified personal account — liked a tweet that implied she hated her husband.
A few hours later, she quietly unliked the tweet, but not before literally everyone noticed. But later that night, a spokesperson said the First Lady was "not aware" of her account's activity.
"The First Lady wasn't aware of any of this until I brought it to her attention," the First Lady's communications director, Stephanie Grisham, told People. She added, "It isn't her primary account and we have since changed the passwords." Melania Trump, yet another victim of the Freudian finger slip.