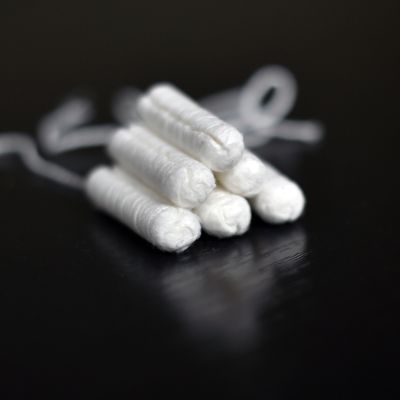 Photo: Loic Venance/AFP/Getty Images
A group of activists marched on Tuesday to force companies to come clean about what is actually in a tampon. Right now, many tampon makers just give a list of what "may" be in their products — including fibers like cotton, rayon, and polyester, or chemicals like absorbent wood cellulose or polyolefin.
The rally was led by Women's Voices for the Earth, a nonprofit focused on toxic chemicals in feminine care products. It follows two bills introduced this month involving chemicals in menstrual products. One, by Congresswoman Grace Meng of New York, is the Menstrual Products Right to Know Act of 2017 (HR 2416). The bill "requires menstrual products, such as menstrual cups, menstrual pads, tampons, and therapeutic vaginal douche apparatuses, to include a list of ingredients on the label."
Carolyn B. Maloney, also a representative from New York, is reintroducing a bill that would require the National Institutes of Health to research whether chemicals in these products pose a health risk. Maloney has introduced the bill ten times.
This is the second political period movement right now: Per the New York Times, Laura Strausfeld, co-founder of Period Equity, calls the lack of information about tampon contents "the other tampon tax." New York, Connecticut, Illinois, and the District of Columbia have taken steps to make tampons tax-free, saying that being a woman with a functioning menstrual cycle makes feminine care products medically necessary. Meng also introduced a bill in March to make menstrual products free or low cost across the country.