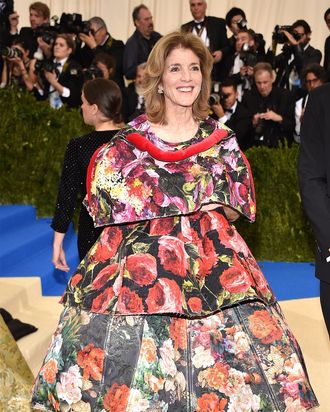 Caroline Kennedy at the 2017 Met Gala
Photo: Kevin Mazur/WireImage
We've long since moved past the point where celebrities dressed for themselves, and expressed a kind of kooky personal style, for awards shows. Now that almost every A-lister is the face of a brand or has a collaboration to promote, gaming the red carpet has become a less and less thrilling exercise, and the swan-dress moments are few and far between. But fashion's creeping dullness, its risk aversion, and its preference for the blandly tasteful over the statement-making have never been thrown into such high relief as at last night's Met gala.

That's because, unlike previous years' broad themes, like Punk or Tech, where celebrities could opt out or meet the concept halfway — say, with a robot arm — this year's centered around a designer who stands in opposition to everything fashion has become. Rei Kawakubo's work refuses to make its wearer merely ornamental. A woman in Comme des Garçons can't be a designer's arm candy — she takes up space and forces everyone to reckon with her.
Kawakubo has taken aim at our obsession with contouring the perfect body by inserting lumps and bumps into clothes, turned dresses into straitjackets, and covered gowns in fake blood. Even the exhibition, with a set designed by Kawakubo herself, strays from the typical "fashion exhibit" protocol — the setup is nonlinear, allowing the visitor to wander freely, and there is no wall text to explain or comfort the viewer when faced with these unusual fashions. Comme des Garçons isn't easy, commercial, "wearable," or any of the things fashion is supposed to be right now.

And that's why the few people who really succeeded last night were those wearing bona fide Comme des Garçons, not another designer's approximation. (To be fair, anyone trying to copy Kawakubo was bound for disaster.) Rihanna, who wore a look from the 18th-Century Punk collection from fall 2016, was widely named best dressed of the night because, as someone put it on Twitter, she did her homework. She and her stylist, Mel Ottenberg, strove to understand what Rei was about and to pay her homage. (Much as she did with her Guo Pei look at the 2015 gala.) The rapturous response to Rih's look shows how starved people are for fashion that isn't "safe." And Caroline Kennedy, in a mile-wide, arm-constricting design that People magazine called a "floral sphere," was another standout. (Her look came from the same collection as Rihanna's.) But most of the looks revealed not just designers' lack of understanding of Kawakubo's work, but the way in which her genius threatens their status quo.