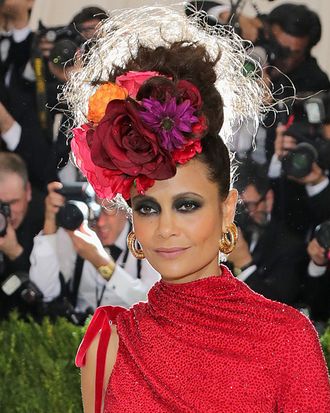 Thandie Newton at the 2017 Met Gala.
Photo: Neilson Barnard/Getty Images
Thandie Newton plays a robot on TV, but in real life she's more like a chameleon — jumping from one glorious getup to the the next. The Met Gala calls for the most outlandish showing of all, and this year Newton played to win with an updo equipped with its own halo and bouquet, and a pair of smoky eyes to match.
Newton called on artist Jo Strettell to execute her makeup look. Strettell drew inspiration from the Comme des Garçons of the 1980s, and swept on heavy black eyeshadow as an ode to the intensity of the era. Dipping a wet brush into NARS's Dual-Intensity Eyeshadow in Sycorax, Strettell painted the dark shadow all over Newton's lids, up to her eyebrows, and then fluffed a dry brush in the same shadow pot to diffuse the bold pigment. She then lined Newton's eyes with two black eyeliners — a gel in Black Valley and a Kohl pencil — to amplify the darkness surrounding them once more. She capped the eyes with several layers of mascara so that her lashes appeared sufficiently spidery. To offset the extreme eye shadow, Strettell painted Newton's lips with a nude liquid lipstick that's a part of NARS's Power Matte collection, set to debut this fall.
If you're wondering how Newton will survive a night with so much eye makeup without developing a case of allergy eye, the answer is she's just lucky. But for anyone else whose eyes are watering at the mere mention of "two eyeliners," Strettell suggests this easy remedy for clear eyes: blue eye drops. "They're the best," she says.