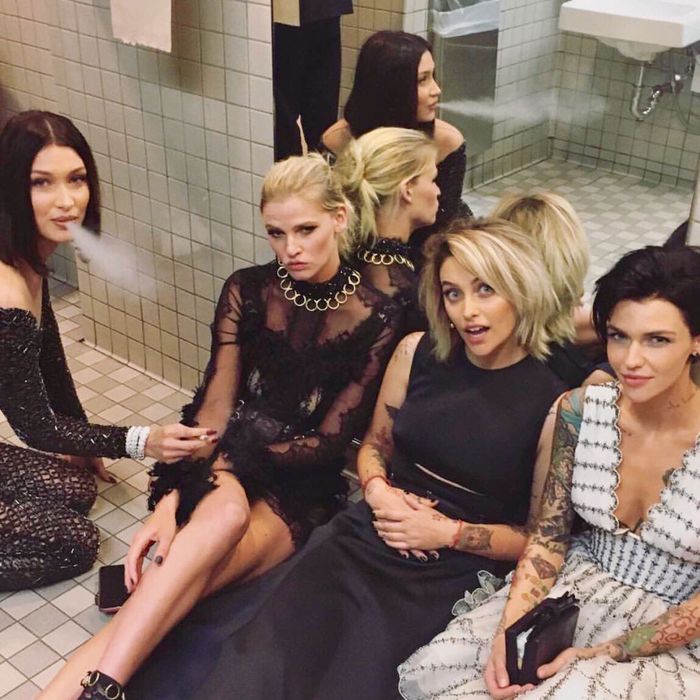 Bathroom celebs at the Met Gala.
Photo: Courtesy of Twitter/victuuris95
A number of celebrities were pictured smoking in the bathrooms of the Metropolitan Museum of Art at Monday night's Met Gala, just like the cool kids in high school. However, the rebellion reportedly pissed off museum board members and donors — to the point that one actually complained to Anna Wintour, "Page Six" reports.
According to "Page Six," one board member was "horrified to go into the ladies' loo" to find a "host of celebs messing around," including Sean "Diddy" Combs, Kendall Jenner, and Kim Kardashian. On top of that, certain celebrities, such as Bella Hadid, Marc Jacobs, and Dakota Johnson, were also caught smoking in the bathroom (as seen in pictures shared on social media). A source told the gossip column, "The board member stormed right out and complained right away to Anna Wintour's team. It is so disrespectful to the museum."
Another Met donor told "Page Six" that they want the smoking celebs to be punished, as it may have damaged some of the museum's art. "As a donor to the Met, I was so insulted to see all these 'celebrities' smoking and taking selfies of themselves in the bathroom," the donor said. "Mostly, it's disrespectful to the art collection which needs to be kept 100 percent smoke-free. I would honestly like to see these people fined by the city."
Oh boy, when are celebrities going to learn that true rebels without a cause hang out in the parking lot, not the bathroom?