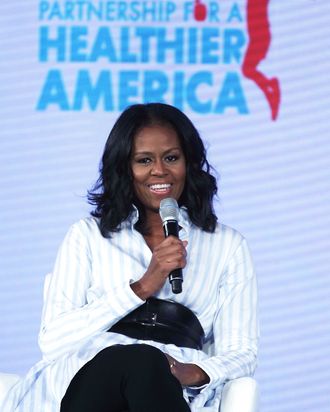 Michelle Obama on Friday.
Photo: 2017 Getty Images
Michelle Obama is not about to let President Donald Trump mess with the Obama administration's healthy-eating policies. At an event on Friday, Obama had a message for anyone who comes after the work she did to make school lunches healthier: "Don't play with our children."
As Politico reports, Obama's comments at the Partnership for a Healthier America Summit — her first public event in Washington since leaving the White House — came shortly after the Trump administration announced plans to pull back some of the school-lunch-nutrition standards from Obama's healthy-eating initiative. "We've got to make sure we don't let anybody take us back," Obama said at the event. "Every elected official on this planet should understand. Don't play with our children. Don't do it."
Politico notes that Obama didn't actually call out Trump by name, but her comments were clearly directed toward his administration. "If we really want to make this country great, then our kids need to be healthy and they need to have access to the best," Obama said. The former First Lady went on to explain that she wasn't motivated politically to keep those nutrition policies in place. "My commitment to these issues is real. When you hear me getting riled up in this chair, it's not politics — it's parenting that's really moving me," she said.
Obama also asked the crowd at the event why anyone would ever want to stop schools from serving healthier lunches in the first place. "You have to stop and think: Why don't we want kids to have good food at schools? What is wrong with you?" Obama said. "Why would that be political?" According to Politico, her remarks were met with "boisterous applause."
She also reportedly criticized the administration's decision last week to delay a rule that would require restaurants, grocery stores, and movie theaters to post calorie counts on their menu, Politico noted, saying that people have a right to know what they're eating.