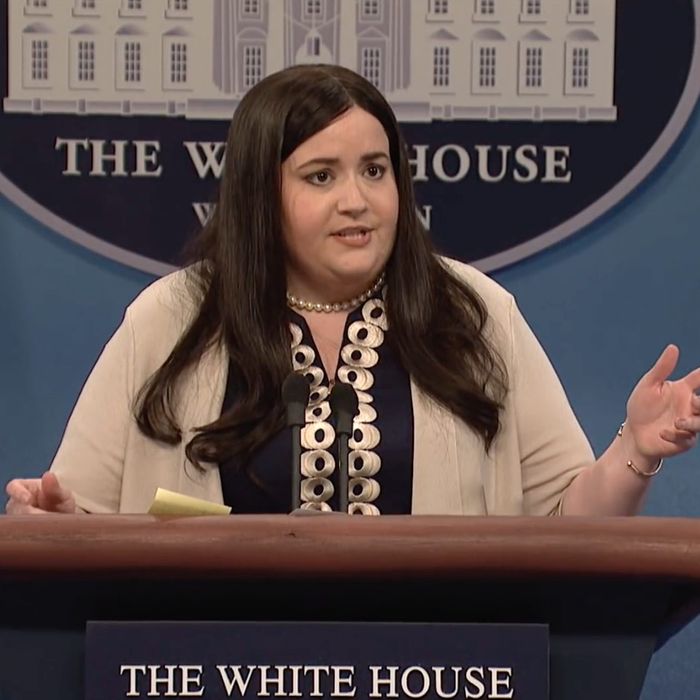 Aidy Bryant as Sarah Huckabee Sanders.
Photo: Courtesy of Saturday Night Live
On last week's Saturday Night Live, Aidy Bryant introduced her impression of deputy White House press secretary Sarah Huckabee Sanders. "My father is Mike Huckabee," she tells the press pool. "My mother is a big southern hamburger." Her father is none too amused with the character, and, presumably, the accusation that he reproduced with a hamburger.
"I thought it was a little bit silly, sexist, [and] misogynist, but my daughter is certainly capable of handling a whole lot worse than that," Huckabee, whose son once killed a dog, said during a Varney & Co. interview on the Fox Business Network.
This is certainly not the first time a Republican has attempted to spin criticism of or jokes about one of their female allies as sexism — nevermind a party platform and personal views that disenfranchise women and repeatedly put their health and dignity at risk — but this particular character also comes with accusations that SNL "fat shamed" Sanders.
Huckabee added, "Here's what we taught her, that she's going to be judged by God, not by some not-so-funny comedy writers on Saturday Night Live."
One look at Huckabee's Twitter feed does make the case that he's the true comedy expert here.