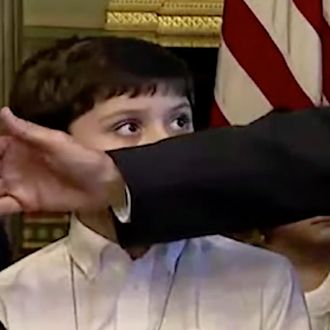 Mike Pence's arm came offensively close to this child's face.
On Tuesday, Vice-President Mike Pence and his wife, Karen — along with Ivanka Trump and national security adviser H.R. McMaster — played host to military families at the White House. The Pence family let a bunch of kids touch their pet rabbit before the vice-president launched into remarks thanking the attendees for supporting their family members serving at home and abroad. "We honor your families because your families protect us," Pence said before soliciting a round of applause.
The whole thing was going smoothly until, at the very end of his speech — on the words "God bless these wonderful kids" — the VP extended his right arm just a little bit too far, accidentally hitting one of the shorter attendees in the face. The kid stayed quiet, but after the speech ended he followed Pence around the venue, at one point telling him, "You owe me an apology." Tough, but fair.