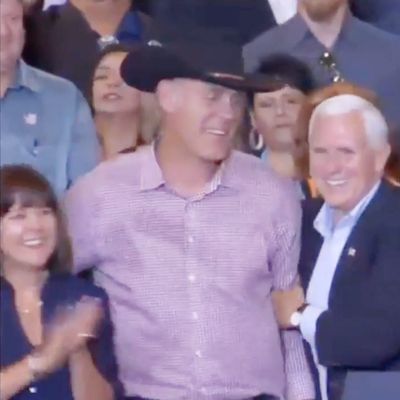 Karen Pence, Ryan Zinke, and Mike Pence, post-dance.
Photo: Courtesy of YouTube/The Clem Report
A great video clip will transport you away from the tedium and fatigue of your daily existence, briefly bestowing you with a much-needed bit of levity and joy. Take, for instance, a French bulldog playing with a baby. A cat hugging one of her kittens. Or Vice-President Mike Pence's wife, Karen, dancing with Secretary of the Interior Ryan Zinke while Pence looks on helplessly, unable to intervene.
While Washington, D.C., finds itself rocked by news leak after news leak, Pence was away at a rally in Billings, Montana. He turned his back for a mere second, only to have Zinke — who rode a horse to work on his first day — pull his wife into a dance, literally sweep her off her feet, then swing her around. (For evangelical Christians, this actually counts as full-on sex.)
This exact situation is, incidentally, the prequel to Footloose.