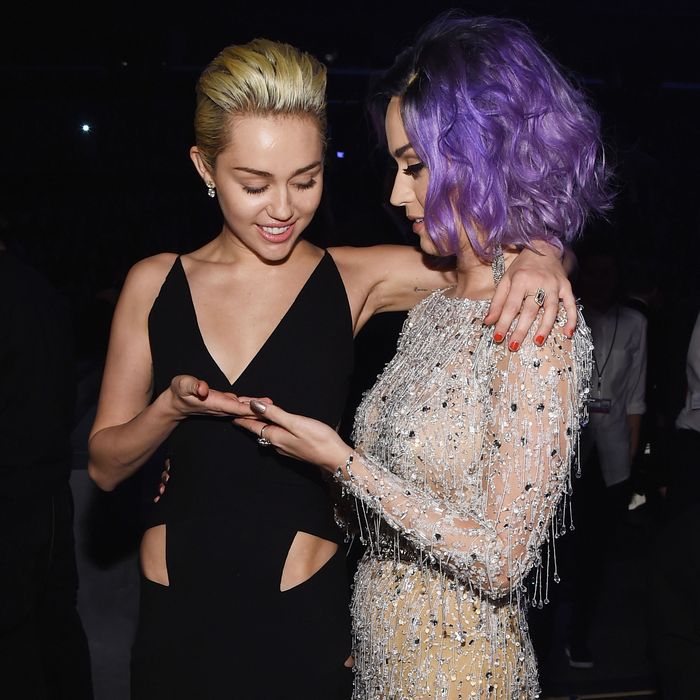 Miley Cyrus and Katy Perry.
Photo: Larry Busacca/Getty Images for NARAS
The origins of "I Kissed A Girl," Katy Perry's catchy-yet-problematic ode to bicuriosity, remain shrouded in uncertainty. Perry has said, at various points, that Scarlett Johansson inspired the song (although they never actually kissed), that it was dedicated to a friend she had a crush on when she was 15 (although they never actually kissed), that it was just a fantasy, and — most recently — that "truth be told, [she] did more than that."
Now, in a surprising plot twist, Miley Cyrus is stepping up to take responsibility for the nationwide surge in cherry-Chapstick sales.
"When [Perry] came out with 'I Kissed a Girl,' I was doing the Hannah Montana movie, and I heard her on the radio. They said, 'Who did you write that about?'" Miley told WKTU during an interview Tuesday morning. "She said: me! … I heard it and I screamed, and started freaking out."
Case closed? Not so fast. While Miley and Katy would go on to share a number of public smooches over the course of their decade-long friendship, based on Miley's timeline, the two hadn't actually met prior to 'I Kissed a Girl'. In fact, it was only after Miley heard the tell-all radio interview that Perry invited her to go to the VMAs with her. "That's when I started doing my whole VMA controversy," she explained. "So, that's how we met, and we just stayed friends."

Did Katy Perry actually kiss a girl and like it? This remains, as ever, an enduring mystery for our times.