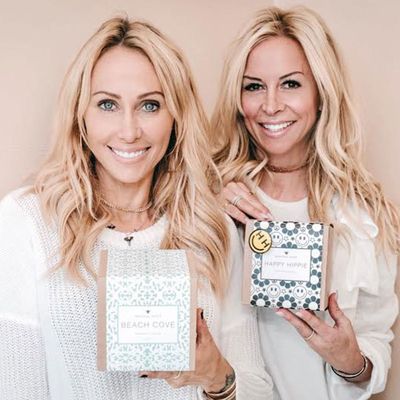 Tish Cyrus and Nicole Winnaman.
Photo: Courtesy Original Scent
The type of candles you burn in your home can say a lot about you. Diptyque: Rich girl. Jo Malone: Nice mom. Meyer's: Frequent grocery shopper. Original Scent: Oh, what's that?
It's Tish Cyrus's new candle company, which features original scents including Happy Hippie, Tipsy, and Booty Call. Cyrus (mom to Miley; wife to Billy Ray) launched the line with her best friend and celebrity branding agent Nicole Winnaman at Coachella last month. I got to sample all 29 of the surprisingly pleasant candles earlier this week in a Soho penthouse, which was decorated with poster-size photos of Cyrus and Winnaman romping through the music festival. Original Scent, the founders said, is very fun.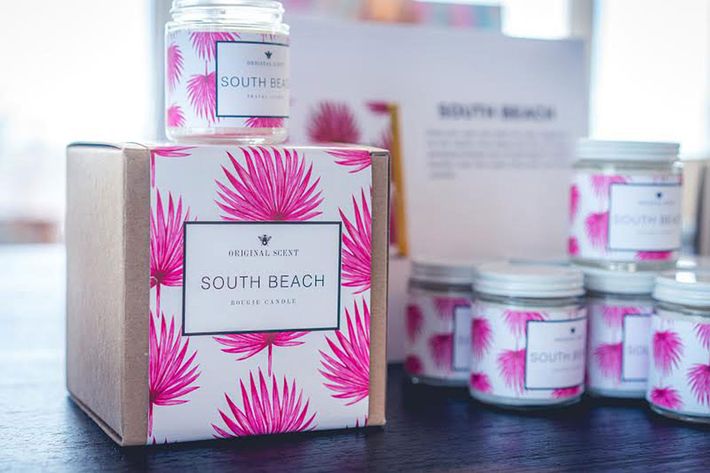 Most of the candles have a decidedly sorority-girl vibe: There's the aforementioned Booty Call, which Winnaman described as "instant Viagra," and a cannabis-scented offering called Hashtag High. There are also a few muted options, like Rose Court and Honey. Cyrus told me that South Beach, a "vibrant citrus blend with Pink Art Deco packaging" is Liam Hemsworth's favorite. All of the options retail for $18 for travel size and $32 for full size.
Cyrus, a 50-year-old with bleached-blonde waves and a delightful Tennessee accent, is currently going through a personal rebranding as an interior-design guru. For the last several years, she has managed the careers of her famous offspring (she recently launched the singing career of her youngest daughter, Noah), but now, she is focusing more on her own projects. Later this month, Bravo will premiere a new reality show called Cyrus vs. Cyrus: Design and Conquer, in which Cyrus and her oldest daughter Brandi compete to decorate rooms in other people's houses. In a preview for the show, Cyrus describes her aesthetic as "very California, classic, casual, little contemporary, and throw in a little boho … bohemian chic." The candles are the perfect product tie-in: Cyrus said she was able to feature them in almost every episode. A candle really lights up a room.
I am not an expert in candles or design or pop-music management, but I will give you my assessment of Original Scent's offerings: I liked them. There were a few that smelled too sweet, like the inside of a Bath & Body Works semi-annual sale, but most of them smelled much more expensive than I expected. I am currently burning Free Love, a rainbow-decorated option that brings a "fresh, clean, light and sensual scent into your home," according to its description, which sounds exactly right. My second favorite is Booty Call, though I can't say it's given me a boner.
If you do not want a candle that says "Tipsy" on it, Original Scent offers the option to personalize the candle labels online. This means you could put your name on a candle, or someone else's name, or something like, "Miley's Bachelorette!" (Are Miley Cyrus and Liam Hemsworth getting married soon? Tish Cyrus oddly did not reveal this information to me.) At the very least, Original Scent candles would make a nice, personalized gift for a party. And then you could say to the recipient: "It's Miley Cyrus's mom's candle company — it's fun."