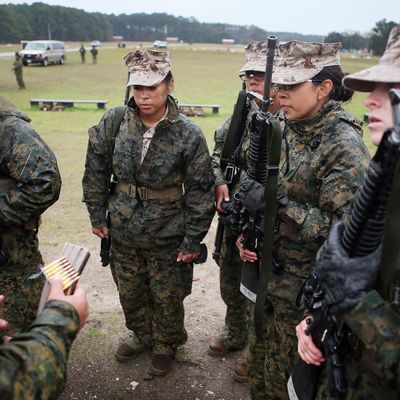 Hundreds of nude photos of female service members and other women were shared in a Facebook group.
Photo: Getty Images
Back in March, a Facebook group whose members included more than 30,000 active-duty and retired male Marines, Navy Corpsman, and British Royal Marines was busted for sharing hundreds of nude photos of active female service members, as well as other women. The group, called "Marines United," was dismantled, but others quickly sprung up to take its place.
The whole thing led to a military investigation and a heated hearing before the Senate Armed Services Committee, where General Robert Neller, commandant of the Marine Corps, promised to do better. And on Wednesday, the backlash continued with the House of Representatives unanimously passing a measure to ban nude-photo sharing in the military altogether.
Under the measure, the Uniform Code of Military Justice would be amended to specifically outlaw sharing the types of images in "Marines United," according to The Hill. Anyone who violates the rule, which still needs to be approved by the Senate, would be subject to punishment by court martial.
Representative Martha McSally, a Republican from Arizona and a retired Air Force colonel, introduced the measure. "The Neanderthals who committed these acts are not emblematic of the vast majority of decent and honorable service members," she said. "However, the notion that any service member would think it is acceptable to upload, view, or comment on nude photos of their fellow service members is a serious problem that must be fixed."
The new rule comes after U.S. Navy regulations were updated to ban sharing photos with the intent of humiliating, harassing, or threatening the subject. But California representative Jackie Speier used the scandal to call for even more thorough legislation. "A federal law is needed to provide a single, clear articulation of the elements of this crime to ensure that Americans in every part of the country — civilian and military — are protected," she said.