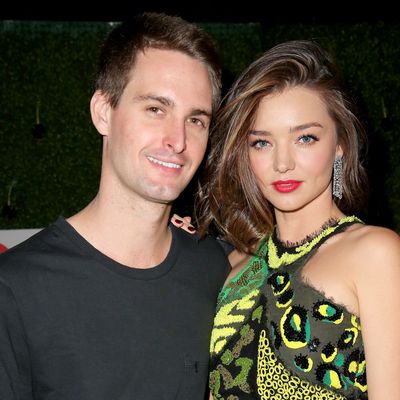 The happy couple.
Photo: 2016 Getty Images
Australian supermodel Miranda Kerr and Snapchat CEO/young billionaire Evan Spiegel are reportedly getting married this weekend, which is great news for them because it means they'll get to celebrate their love in front of their friends and family, and also finally bang.
Kerr, 34, and Spiegel, 26, were engaged in July, and in a February interview with the Times of London, the mother of one (who shares a son with ex-husband Orlando Bloom) said that her fiancé is "very traditional" and then seemed to suggest that they were waiting to have sex until marriage. Kerr said, "We can't … I mean we're just … waiting."
And now, it looks like their wait is over: "Page Six" reports Spiegel and Kerr are set to get married this weekend at their home in Los Angeles. "The wedding will be beautiful, super small and private, with only around 30 guests — just very close friends and family," a "source" told the gossip column.
Congratulations on the wedding and banging, you two.