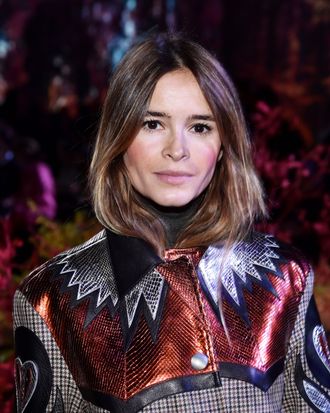 Miroslava Duma.
Photo: 2017 Getty Images
If you follow fashion-show front rows and their attendant parade of street-style peacocks, you might recognize Miroslava Duma as one of the scene's most visible players. But she's also a powerful force in the world of online publishing — founding fashion and lifestyle platform Buro 24/7 and e-commerce site the Tot. And now, she's about to become a mover and shaker in technology, too. Business of Fashion reports that Duma's latest project, Fashion Tech Lab, will fund exploration on the technological side of fashion, including fields like wearable tech, nanotechnology, and performance fabrics.
Among the companies she's sinking her initial $50 million investment into are Orange Fiber, which makes clothing and accessories from cast-off orange peels instead of leather and recently did a capsule collection with Salvatore Ferragamo; Diamond Foundry, which produces man-made gems, and an unnamed start-up focused on developing leather in a lab. Duma tells BoF that sustainability is a particular interest of hers. "The fashion and apparel industry is the second-largest polluter in the world … I was shocked [when I found out] and started to think what we could actually do about it," she says. "Having two kids at home, I was also looking at what I was doing, and I thought: Am I really helping anyone? Am I really making a change?" At least she can say she's putting her money where her mouth is.