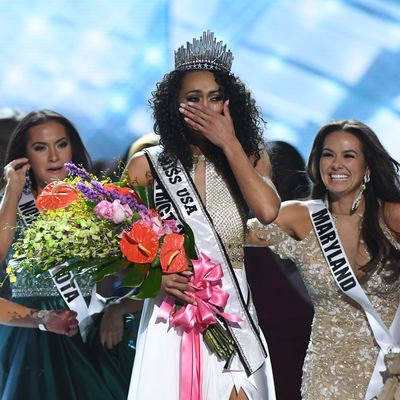 Miss USA Kara McCullough.
The Miss USA pageant, previously Donald Trump's gross playground, announced its winner last night, and she's already being claimed by the far right as one of their own.
Miss District of Columbia Kara McCullough, who is a chemist for the U.S. Nuclear Regulatory Commission, was asked whether she considered herself a feminist. For 25-year-old McCullough, the word "feminism" is just too harsh, you know? Thankfully, she's come up with another word: Equalism.
"As a woman scientist in the government, I'd like to transpose the word feminism to equalism," she said. "I try not to consider myself this die-hard, like, I don't really care about men."
She was thrown another hardball when asked whether health care was a privilege or a right. McCullough, someone who has health care through her job, thinks it's "definitely" a privilege.
"As a government employee, I'm granted health care and I see first hand that for one to have health care, you need to have jobs," she said. "We need to continue to cultivate this environment that we're given the opportunity to have health care as well as jobs to all American citizens worldwide."
LifeZette, a conservative news outlet owned by Laura Ingraham, championed McCullough, writing "the Left has a deep love for diversity, except when it comes to political opinions that don't precisely match theirs." The Fox News set was also quick to embrace her. Libertarian columnist Kristin Tate called McCullough's win "refreshing" on Fox & Friends, saying that it celebrated "true diversity." "A lot of people making these nasty attacks say that they are feminists," she added, "yet they're tearing down this strong woman because, again, she doesn't fit their narrative."
And of course, far-right Twitter users loved her.
But perhaps alt-right outlet the Gateway Pundit put it most succinctly: "Miss DC wins Miss USA Pageant After Dissing Man-Hating Feminism — Social Justice Warriors Suffer Meltdown." There it is.