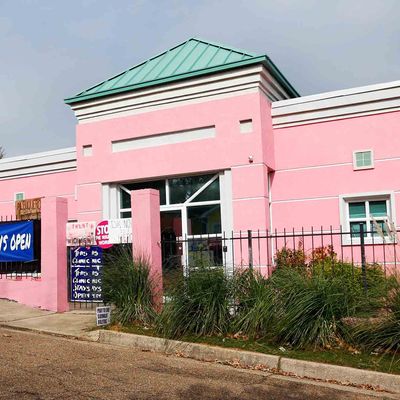 The Jackson Women's Health Organization in Mississippi.
Photo: Rogelio V. Solis/AP
In a bright-pink building in the Jackson, Mississippi, Fondren neighborhood sits the state's only abortion clinic: the Jackson Women's Health Organization. While abortion clinics have been steadily closing across the country for decades, the recent assault on reproductive rights in Mississippi has been particularly aggressive. In 2012, governor Phil Bryant signed a TRAP law designed to close the state's last remaining clinic; in 2014, Bryant gave a speech in which he said that "[his] goal is to end abortion in Mississippi"; and just last summer, he signed a bill to defund Planned Parenthood. While judges have blocked the attempted legislation so far, and abortion has not yet "ended" in Mississippi, a new threat has moved in on Jackson Women's Health Organization, literally across the street: The Center for Pregnancy Choices, an anti-abortion center with a mission "to offer a viable alternative for women who are in crisis pregnancy situations" opened on April 22, just 100 yards away.
"We are beyond excited to be there," Erin Kate Goode, Center for Pregnancy Choices' executive director, told Pregnancy Help News. "We've been trying to get there, and it's finally taken place."
The Center for Pregnancy Choices, which operates two other locations in Jackson, is what is commonly referred to as a "crisis pregnancy center" (CPC). While CPCs pose as health-care centers, reproductive-rights organizations warn that they are less concerned with women's health or bodily autonomy than they are with advancing anti-abortion causes. With about 2,500 centers around the country, CPC buildings are often located in close proximity to abortion providers and market themselves as women's health centers to confuse patients, according to Planned Parenthood. And outside the actual clinics, CPC employees — many of whom have no medical experience — will practice sidewalk counseling to persuade women into their center instead, often claiming that their centers can offer the services they may need.
"They think that if they can lure women [on their way to the abortion provider] into their door, they can tell them lies about their pregnancy, and that will be a win for them because they will have convinced a woman to not have not gotten an abortion," says Leslie McGorman, deputy policy director of NARAL Pro-Choice America. On NARAL's Exposing Fake Clinics tumblr, the group highlights testimonies from women who visited CPC and were given false information. One patient was told that abortion would increase her chance of getting breast cancer by 400 percent, which is a myth that anti-abortion-rights legislators and advocates have circulated as a fear tactic for decades, despite there being no scientific backing. Multiple attempts for comment from the Center for Pregnancy Choices were not returned.
For Mississippi's only clinic, the arrival of this CPC means that what is already a difficult situation is going to get worse. A 2016 study from Feminist Majority Foundation found that clinics located near a CPC had a 21.7 percent chance of experiencing "high levels of violence, threats, and harassment," whereas clinics not near a CPC had a 6.8 percent chance. "I anticipate them trying to make our lives here harder. I anticipate them harassing our patients more and trying to embarrass these women," says Shannon Brewer, the director of Jackson Women's Health Organization. Brewer says she's seen a few more of Center for Pregnancy Choices' people out since the Fondren location's opening, but she is ready for them — being pro-choice in Mississippi has never been easy for her.
Every day, protesters stand outside the Jackson Women's Health Organization chanting phrases like "the baby doesn't want to die," and in 2015, intruders severely vandalized the location by smashing security cameras and tampering with electrical wires. The clinic has even gained the attention of radical pro-life groups, like Survivors of the Abortion Holocaust and Operation Save America (OSA). Still, the clinic has stood its ground. In 2013, after Bryant passed legislation that threatened to close JWHO, the clinic painted its building pink, to send the message "we're right here, and we're not going anywhere." A documentary about the clinic's struggle to remain open was released last year.
While the past few months have been anything but encouraging for the future of reproductive justice, there have been a handful of triumphs in the Court in the past year. In the landmark case Whole Woman's Health v. Hellerstedt, the Supreme Court struck down two of Texas's abortion restrictions, which led to a federal district court permanently blocking the Mississippi 2012 TRAP law that threatened to close JWHO. But under Governor Phil Bryant, who has put forward several anti-abortion bills, it's unlikely that the state's abortion access will improve. The state's only other abortion clinic closed its doors in 2006, and since then, women from across the state have had to travel up to four hours to get to the Jackson clinic (which also provides other forms of reproductive care, like birth control and checkups).
While McGorman considers crisis pregnancy centers to be nefarious around the country due to their tactics to mislead women and "outright deceive them about the services they offer," she says they arrival of this CPC is detrimental to the rights of Mississippi women in particular.
"You already have the state governor saying he wants to make Mississippi the first state in the country without an abortion provider," she says. "In that landscape, you can't take for granted the effect that the CPC will have on women."