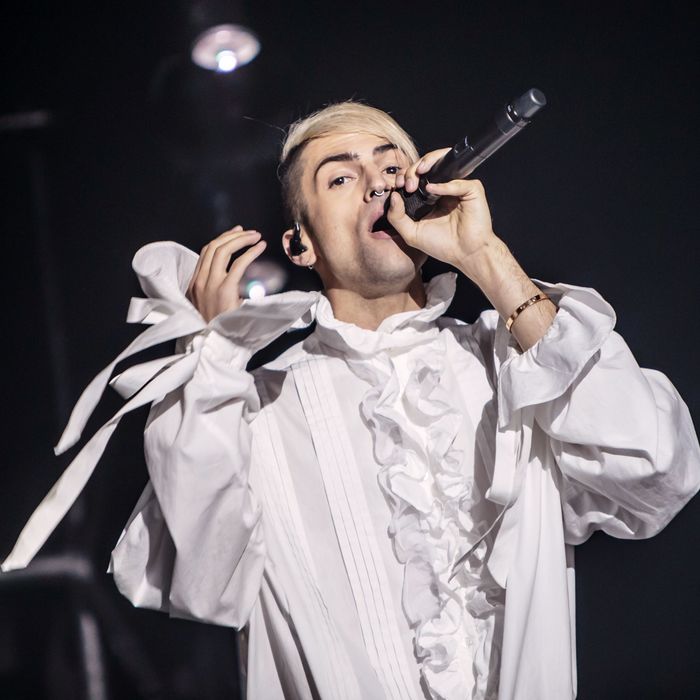 Mitch Grassi performs live at Fabrique in Milan, Italy, in 2016.
Photo: Sergione Infuso/Corbis via Getty Images
It's an uncharacteristically gray February day in Los Angeles when I meet Mitch Grassi at the Opening Ceremony on La Cienega Boulevard, right next door to a car wash and across the street from the retro diner Norms. He has on a Balenciaga leather-and-shearling aviator-style jacket, worn low and off his shoulders, pulled close like a four-figure security blanket. Combined with his tattered Raf Simons sweatshirt, patchwork denim, and clunky Vetements boots, it's a look that's bordering on downright aggressive, especially for laid-back L.A., where he lives when he's not touring and where virtually all the young guys are still wearing a riff on the Scott Disick fuccboi uniform of ripped moto jeans, past-the-ass elongated tee, John Elliott–style side-zip sweatshirt, and sneakers.
"I want to look scary," he says while scanning a display of bomber jackets. "I don't really know why, but I've been into that 'don't talk to me' look. I like to be approachable but I also like … I like to keep people at arm's length." It's an almost laughable notion — a celebrity dressing in such a conspicuous manner to repel people. "It's a sort of weird duality," he admits when pressed. "I want attention, but I don't want you to talk to me."
Grassi's first impressions of fashion came, fittingly, from the internet, where he encountered pictures of Christian Lacroix shows or vintage Dior on Tumblr. He was in high school, around 17 years old, and the images hinted at a world beyond his own Texan suburb, of a life of beauty and glamour. Grassi is of a generation that has lived only in a post-internet era — marketers would call him, somewhat cynically, a "digital native" — and these online discoveries were seminal to him. "I was like, Oh, this is amazing," he recalls. "The internet was my gateway into the world. It was my way of finding culture."
Grassi, now 24, is most recognizable as one of the five members of Pentatonix, the hit a cappella singing group known for covers of popular songs as well as their own music. That makes him unknown to some and, conversely, incredibly famous to others, kind of like a soap-opera star. In case you haven't heard of Pentatonix before, consider this: The group spent two weeks at number one on the Billboard 100 at the beginning of the year (dethroning the Weeknd, no less), and they won a Grammy in February — their third, more than Lorde or Frank Ocean — for Best Country Duo/Group Performance, of Dolly Parton's "Jolene." They have more than 3.3 million likes on Facebook and the video for their rendition of Leonard Cohen's "Hallelujah" has racked up more than 143 million views since they posted it on YouTube last October.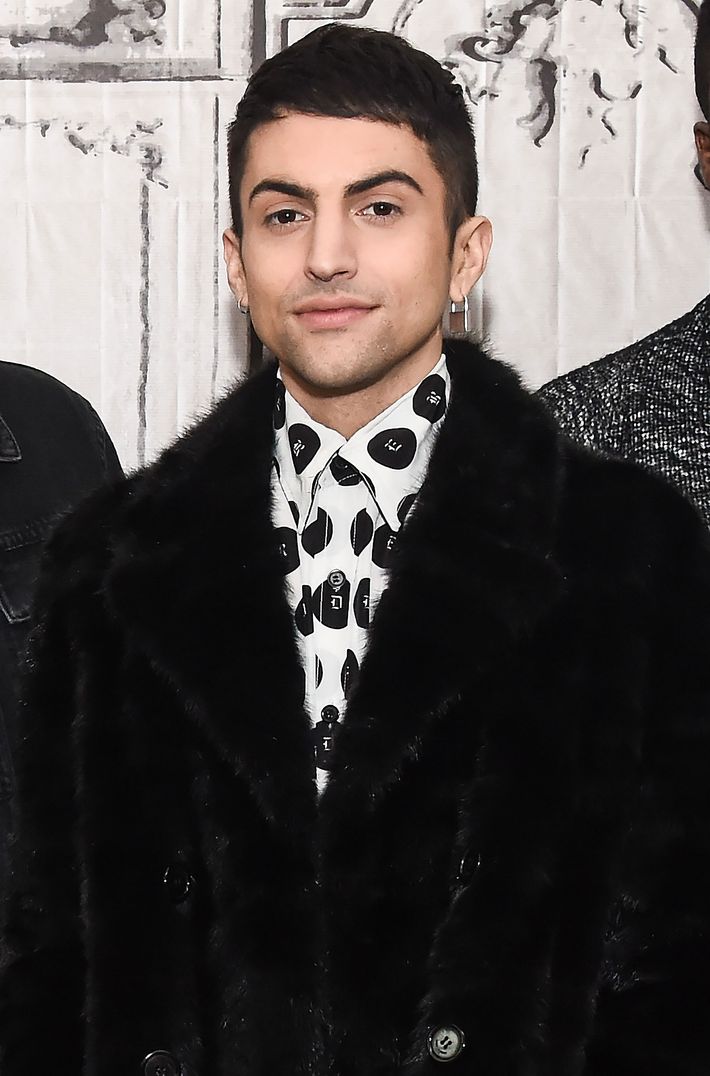 It's no secret that, today, musicians and actors use their image to convey some sort of message, that fashion is just another form of branding. It's the engine behind Zayn Malik's taciturn mystique, Drake's cozy "Champagne Papi" brio, and the type of Army-surplus-store chic that Kanye West is trying to bottle and sell en masse under the moniker Yeezy. But while most musicians, like Bieber and his ilk, have styles more connected to the easily digestible streetwear attitude, Grassi is more connected to the strangeness of the high-fashion runways of Europe. He's unafraid to wear things that look awkward or affected, enjoys it, even. This means, however, that while mainstream websites and magazines fawn over the conventional style seen on the Goslings and Clooneys of the world, Grassi remains one of the most forward-thinking dressers on the scene right now — a fact that's hiding in plain sight.
Grassi is currently in a voracious Balenciaga phase. While the brand, under its designer Demna Gvasalia, has been given critical love, editorial placements in all the right magazines, and is worn by street-style savants, it has not yet made the jump to the celebrity red carpet, especially men. That's probably because, unlike Dior or Prada, it's difficult to wear, conceptual to a fault, almost. Look at Gvasalia's first menswear show for the brand, with its comically overblown silhouettes or his follow-up collection which subverted the tropes of the middle-class corporate office uniform. It's high-minded and, frankly, ridiculous. This doesn't bother Grassi. In a recent Instagram post, he's sporting the cobalt, molded off-the-shoulder anorak that set social media afire during the Gvasalia's womenswear debut at the brand. At the Grammys, he wore look 25 from Balenciaga's spring menswear show, a burgundy velvet suit with cropped trousers and squared-off, Frankenstein-like shoulders. At Paris Fashion Week he wore a coat, another with Stop Making Sense proportions, this time in a rich damask material. "I really like the dramatic and exaggerated silhouettes," he explains.
Grassi tends to become obsessed with brands, and has cycled through various ones over the years, from preppy J. Crew (a byproduct of dating someone who worked there) to rock-and-roll Saint Laurent to gothic Givenchy. He went through a phase of wearing mostly women's clothing and he still has a penchant for dramatic womenswear from his favorite brands. "We all start out really messy, you know," he says, thinking back on some of his sartorial phases. Like the fashion world at large, Grassi likes change, and is prone to discarding and then restocking his wardrobe when a new fixation takes hold — right now, he says, there's a lot in storage while hoodies and outerwear are in prime rotation, despite L.A.'s mild weather. "I'm always layered the fuck out and I don't know why," he says. His favorite shops include temples of the avant-garde: Maxfield, Dover Street Market, the online retailer Grailed. It's no doubt an expensive addiction, but when I balk at the fact that he'll drop money on clothes but drives a ten-year-old Toyota Yaris, and says he will until it dies, he looks at me, all arched eyebrows, and intones, deadly serious, one word: "Priorities."
In addition to his Balenciaga, Grassi is also keen on vintage Raf Simons, particularly the fall/winter 2002 Virginia Creeper collection, and Vetements, also designed by Gvasalia. "It's very Parisienne," he says of his attraction to the latter, especially its first collection. "I mean, it was just like blue jeans and a button-down, but it was very chic, and it was deconstructed, and it was feminine, and I was all about it." On the designer's birthday, Grassi posted a picture of a young, forlorn-looking Simons, eyes cast downward, hair shaggy, on his Instagram. The caption read, plainly, sweetly: "happy happy birthday @rafsimons."
It's easy to understand why Grassi feels a connection to Gvasalia: They're both outsiders who've found themselves on the inside, and who bring their fringe perspective to the spotlight. Gvasalia is from Georgia, and started the tongue-in-cheek sportswear line Vetements before being handed the keys to one of the most storied luxury labels in all of fashion. Grassi, meanwhile, is a small-town gay kid — a classic black sheep tale if ever there were one — who's now a pop star who sells out stadiums, but who's substituted a dark edge for the saccharine sweetness that's usually associated with the genre. He admires people who break rules and are unconcerned with convention: he cites Rihanna and her bottomless love of fashion and category-defying sense of style, as inspiring. For someone looking to assert their identity quickly, Grassi lets his theatrical ensembles say what he can't when he's busy harmonizing.
Grassi was raised in Arlington, a small suburb of Dallas, where his mother is a dental technician and his father works in IT. It's here that he and two others — Scott Hoying and Kirstie Maldonado — formed the founding Pentatonix trio while in high school, where he started out in the class musicals. "I had a passion for performing, so I was like, I guess I'll do this," he says of his theatrical endeavors. "But as I got older I knew it wasn't really for me anymore. It felt kind of childish, and I wanted to move on to music because that was my main passion. It always has been."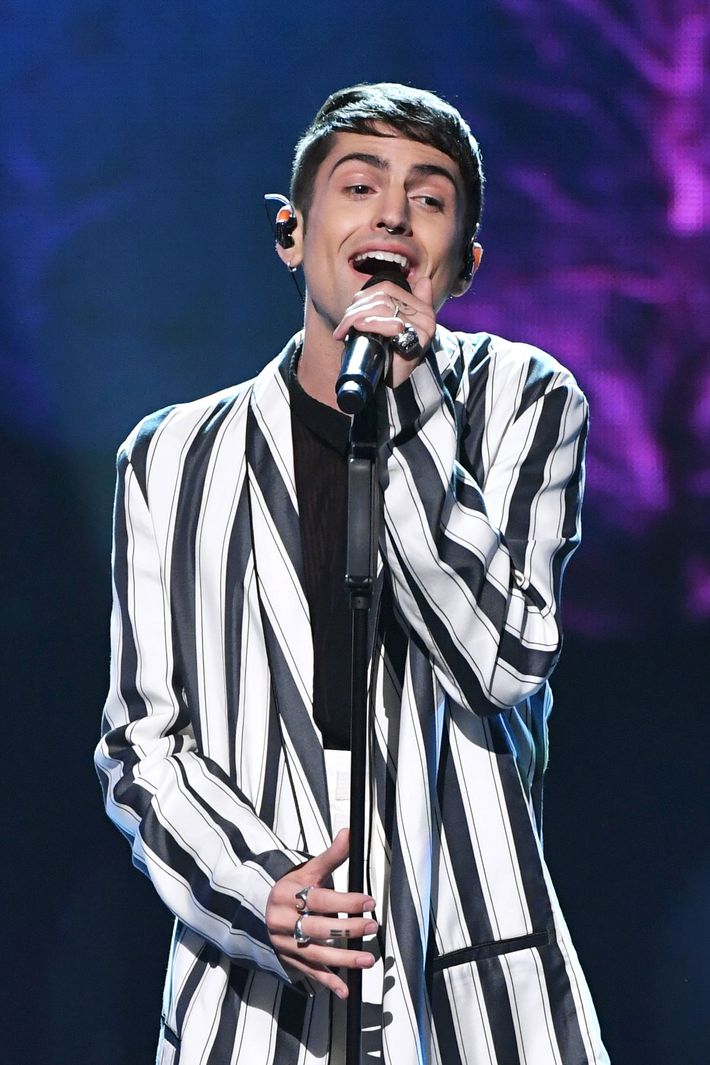 Their first break came in 2010 via a choral rendition of Lady Gaga's song "Telephone" they performed during a school concert, which went viral online. "It's so weird that we just grew up together and we're still working together to this day," he says. They brought on two more members, Avi Kaplan, whom they met through mutual friends, and Kevin Olusola, whom they found on YouTube, to compete on the third season of the NBC reality competition show, The Sing-Off, where they took top prize, a win that launched their rise to stardom. Today they have five studio albums, a documentary film, multiple tours, and a vast imprint on social media. While Grassi is technically a tenor, his vocal dexterity and piercing falsetto have made him a vital part of the group. "It's a high, there's nothing like it," he says of performing. "We all thrive onstage, and it's where I feel most myself."
Looking back, Grassi could never have predicted Pentatonix's meteoric rise. "It's the most surreal feeling because it's something that I didn't even know was possible, at all," he says. "We were so fortunate to find our niche, which is so hard to do, and it worked, and it's just so crazy. It's so mind-blowing." Though the group works within a highly anachronistic style, their popularity dovetails with similar cultural phenomenons like the musical TV show Glee! (2009) and the hit movie Pitch Perfect (2011), about a college a cappella group that covers modern songs, all of which has helped solidify their popularity.
In our Trumpian world, where once innocuous acts are suddenly politicized, there's a sly radicalism in an openly gay, gender-nonconforming fashion lover like Grassi featured in a group with such popularity in red states. "That's the appeal of us, too," he says. "Our individualism. Our fans can kind of latch onto each and every member of the band and we're all so vastly different, so I think that's kind of why we have so many types of people," he says. Take, for example, when the group performed the Christmas carol "God Rest Ye Merry Gentlemen" on Jimmy Kimmel Live!; Grassi wore a women's Saint Laurent jacket with dramatic shoulders and fur sleeves while Maldonado looked the bombshell in a lace dress and the workout-loving beatboxer Olusola wore a gray blazer. "I feel like my brand and Pentatonix brand sometimes don't really … they clash a little bit," he says.
Still, he sometimes feels the pressure to be a crusader, especially online. "I feel as if I have to be some sort of advocate, and I for sure am one. But it's tricky because the people that I follow that are in that position feel as though they have to have a strong voice because they have a platform, they get a lot of backlash." With social media, our pop stars are expected to open themselves up to us and let us in unequivocally, which Grassi finds a drawback to fame. It's one of the reasons, I suspect, that he dresses "scary," to keep people at arm's length.
While Pentatonix continues to be Grassi's main focus — they'll hit the road again later this summer — there are hints that he may be planting seeds for life beyond the band. He and friend/groupmate Scott Hoying also have the comedy and music web series SUP3RFRUIT, a funny little venture that they co-created in 2013 and co-produce today. To some, this may sound like a superfluous hobby, but SUP3RFRUIT has 2.35 million YouTube subscribers, and it's not uncommon, especially for the episodes that feature singing, to get a million or more views. "It's wild," Grassi says. "The YouTuber world is so weird. It almost feels like we're not really doing anything substantial."
And could Grassi add designer to his growing list of side projects? Don't count it out. "Absolutely, yeah," he says of wanting the possibility of designing or collaborating with a designer. He says that it would aesthetically be similar to his current look. "I don't know if people would buy it. It wouldn't be merch-y necessarily." The question is, would the world seriously accept a former tween band member as a serious designer?
Ask Victoria Beckham.