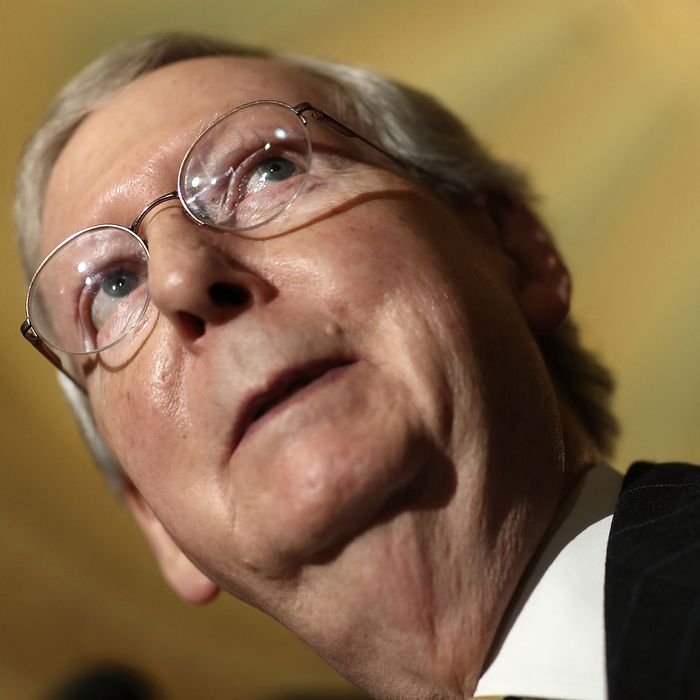 Mitch McConnell.
Photo: Win McNamee/Getty Images
After receiving criticism from women senators of both parties, Senate Majority Leader Mitch McConnell reassured his colleagues that women would be allowed to help rewrite the American Health Care Act, according to the Hill.
The original 13-person group working on the bill — which McConnell later denied was a thing — contained zero women senators, despite the fact that the health-care bill could disproportionately affect women. But on Tuesday, reporters spotted at least one woman, Senator Shelley Moore Capito of West Virginia, in a health-care meeting. And McConnell has since offered behind-the-scenes assurances that "at least one of the women will attend all of the meetings going forward," one GOP lawmaker said.
"He basically told the lunch that everyone in the caucus was invited," added a member of the original working group. "He told the lunch that everyone in the caucus, including the women, can come."
But Senator Joni Ernst, one of just five Republican female senators currently serving, said there's no guarantee one of them will be present at every single health-care meeting — "We all have schedules that change," she said. And Senator Deb Fischer said her attendance will "[depend] on what the topic is going to be specifically within health care."
Although there are currently 21 women in the Senate — an all-time high — more than three-quarters of them are Democrats. Debbie Walsh, director of the Center for American Women and Politics at Rutgers University, told the New York Times that the disparity is more obvious now the GOP is running things. "Women are so underrepresented in the Republican conference that with Republicans controlling Congress, their numbers are so paltry they don't register in that power hierarchy," she said.
But even if the five Republican women are included in meetings, there's no guarantee they'll stand up for the issues liberal women want addressed. Senator Susan Collins tends to vote along pro-choice lines, but Senators Murkowski and Moore Capito both have mixed records when it comes to abortion and Planned Parenthood — two things potentially on the chopping block under the AHCA. (Fischer and Ernst's remarks on the topics skew anti-choice.) It's harder to say whether the bill would change things like maternity coverage, but in January Collins co-authored a health-care bill that would let states opt out of covering Obamacare's Essential Health Benefits, one of which is maternity care.
So by promising to include Republican women, McConnell is "addressing the optics" without doing anything crazy — like, say, inviting Kirsten Gillibrand to chime in.