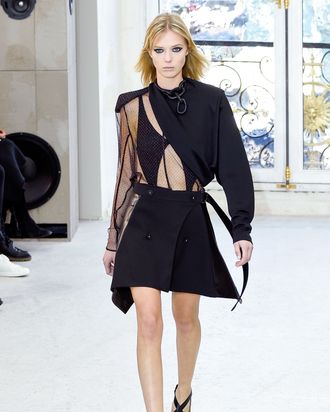 Ulrikke Hoyer in Louis Vuitton's spring 2017 show.
Photo: 2016 Peter White/Getty Images
In a lengthy Facebook post this morning, Danish model Ulrikke Hoyer said she was cast in Louis Vuitton's cruise show in Japan and flew to Tokyo for a fitting before being cut from the lineup for being, in her words, "too big" and getting sent home. According to her account, casting agent Alexia Cheval told Hoyer's agent that "Ulrikke needs to drink only water for the next 24 hours." (Hoyer says that she is a size 34/36, or an American size 2/4.) We have reached out to reps for Louis Vuitton and Hoyer for comment and will update this when we hear back.
"What should have been a truly amazing and unique experience ended up being a very humiliating experience," she wrote, calling the standards high-fashion models are held to "completely unattainable and directly damaging to the human body … Many of the girls don't have their periods, and/or [have] changes the color of their skin because of bad and incorrect nutrition and almost everyone [has] a completely distorted relationship with food."

While not a household name, Hoyer modeled in Vuitton's spring 2017 show and has also walked the runway for Chloé, Stella McCartney, and Alexandre Vauthier. Her account is one of several put forward by models in the past couple of months — Karen Elson said she was cut from a New York Fashion Week show because of "body stuff," later telling the Cut that "It just made me outraged that I was put into this situation to be made to feel diminished." And several models, speaking to casting director and industry watchdog James Scully, alleged cruelty on the part of Balenciaga's casting directors during Paris Fashion Week (the brand has since cut ties with them). These are stories that would not have come to light in a previous era, but between the spotlight offered by social media and the increased attention to body positivity and size diversity in the industry, models are beginning to feel emboldened to speak truth to power.