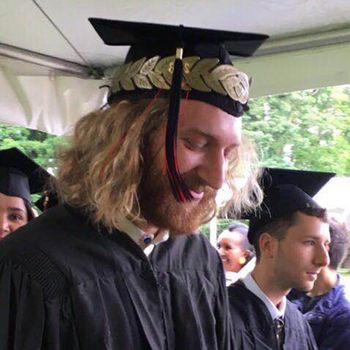 Taliesin Namkai-Meche had just graduated from college when he was killed.
Photo: Courtesy of Facebook/Asha Deliverance
On Monday, President Trump gave a notably subdued speech at Arlington National Cemetery to commemorate Memorial Day. He thanked members of the military for their service and honored fallen soldiers. But he conspicuously failed to mention the two men who were murdered in Portland, Oregon, over the weekend for defending teenage girls from a racist onslaught.
And although the president later mentioned the stabbing in a tweet (after rage-tweeting about the media), the mother of one of the victims, 23-year-old Taliesin Namkai-Meche, wasn't satisfied. On Tuesday, she wrote a letter to the president asking that he acknowledge the attack more fully, and condemn the spirit of hate and prejudice in which it was committed.
"These brave men saw the immediate injustice and didn't hesitate to act," Chris Lejeune wrote of her son and the two other men who helped him intervene, Ricky John Best and Micah David-Cole Fletcher (Fletcher survived). She went on, "To ride the train home without being assaulted because of the color of your skin or your religious beliefs, is an inalienable right." The she told the president what she thought of his silence around the attack:
You have said that you will be President for all Americans. So, I ask you Mr. President to take action at this time. Your words and actions are meaningful, here in America and throughout the world.

Please encourage all Americans to protect and watch out for one another. Please condemn any acts of violence, which result directly from hate speech & hate groups. I am praying you will use your leadership to do so.
During the campaign, getting Trump to condemn white supremacists was like pulling teeth, and he's been equally silent on white-supremacist terror attacks as president. At the same time, the U.S. has seen a rise in hate crimes following the election, and some experts say the president's rhetoric is to blame. For her part, Lejeune wrote that she's proud of her son for stepping in to curtail racist harassment, an act she said "changed the world."