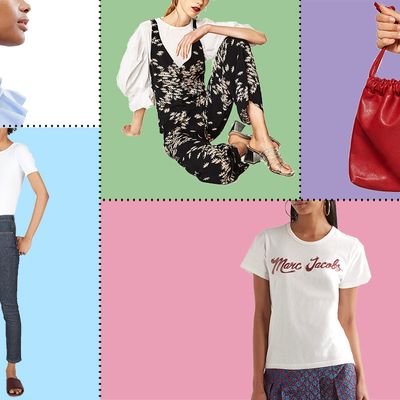 Like clockwork each week, a slew of new stuff hits the internet. Some things we'll bookmark for later, when they hopefully go on sale. Others are so good we have to buy them immediately, before they sell out. Because we're obsessive shoppers, every Tuesday, we'll highlight the best new things to buy now.
This week we're already in the long weekend state of mind, and we're in the mood for fun pieces to kick off summer. We found expensive-looking statement earrings for less than $50, a ruffled blouse that is stylish on-and-off duty, and sandals so good that they already have a waiting list for certain colors. Scroll ahead to shop the items we've had our eyes on this week, all $150 or less.
We're living in a great time for earrings, and these tiered, interlocking circles are another example of affordable-yet-expensive-looking danglers.
Yes the '90s shoe trend is still going strong, and this pair is one way to get the look for just $50.
Because caftans are the savior of summer.
Swap your clutch for a mini-bag. They're cute and make for the perfect going-out purse.
If you have to wear blouses to work, who says you can't bust out a white one with Victorian-looking ruffles? Wear it tucked in with black pants to keep from looking too over-the-top.
Logo tees are a great way to get something affordable from a designer brand. We like this one from Marc Jacobs because the logo features red glitter and embellished stars. You can wear it with jeans, but if you want to kick the styling up a notch, try a skirt and tailored jacket.
Everlane made their own version of the Birkenstock, except theirs is constructed completely from leather and features a footbed that molds to your feet for extra support.
If you buy something through our links, New York may earn an affiliate commission.