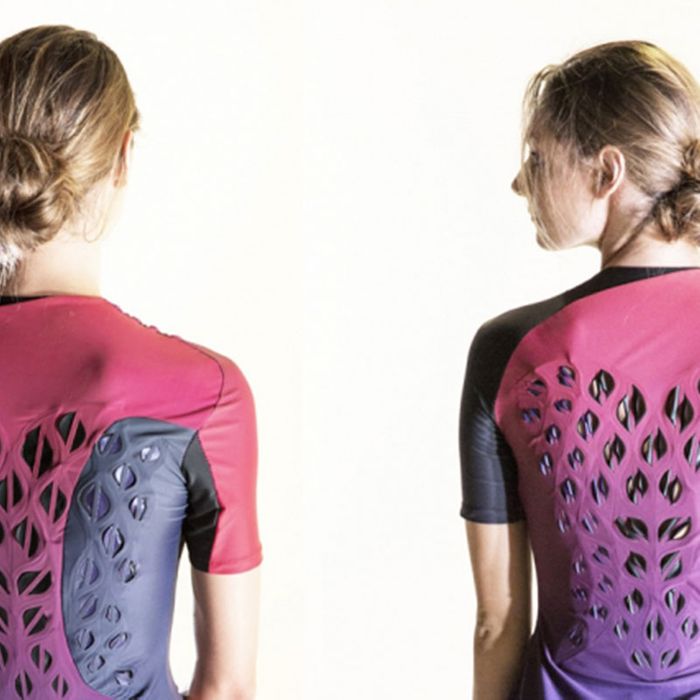 The bioLogic shirt with flaps open (left), and flaps closed (right).
Photo: Hannah Cohen/Courtesy of MIT
Many of us emerge from our workouts looking like a (literal) hot mess — faces bright red, out of breath, hair all over the place, and every inch of our bodies covered in sweat. But now a team of scientists has created a new shirt that will supposedly help us cool down post-workout, and look more like human beings — using bacteria.
Researchers from the Massachusetts Institute of Technology have developed a "breathable workout suit" — part of the "bioLogic" project – that has ventilating flaps that open and close depending on a person's body temperature. According to an MIT release, the flaps are lined with "live microbial cells" (yes, bacteria) that "shrink and expand in response to changes in humidity." The flaps apparently range from finger-size to thumbnail-size, and the cells basically serve as sensors that cause the flaps to open when the person wearing the outfit is all sweaty and then close when the body has cooled off.
The scientists designed a running shoe with similar bacteria flaps to help get rid of moisture, too. But while wearing a shirt (or shoe) lined with bacteria may sound gross, the researchers noted that the cells used in the shirt are actually safe to touch and consume. Furthermore, because of genetic engineering tools, large quantities of these cells can be created quickly. The shirt is also tailored to the human heat and sweat maps, which are apparently different things.
"People may think heat and sweat are the same, but in fact, some areas like the lower spine produce lots of sweat but not much heat," former MIT graduate student Lining Yao, who was involved in the study, said in the release. "We redesigned the garment using a fusion of heat and sweat maps to, for example, make flaps bigger where the body generates more heat."
The researchers noted that in the future, they may be able to modify the shirt to actually "release a nice-smelling odor," which would certainly help our attempts to rejoin society following spin class.