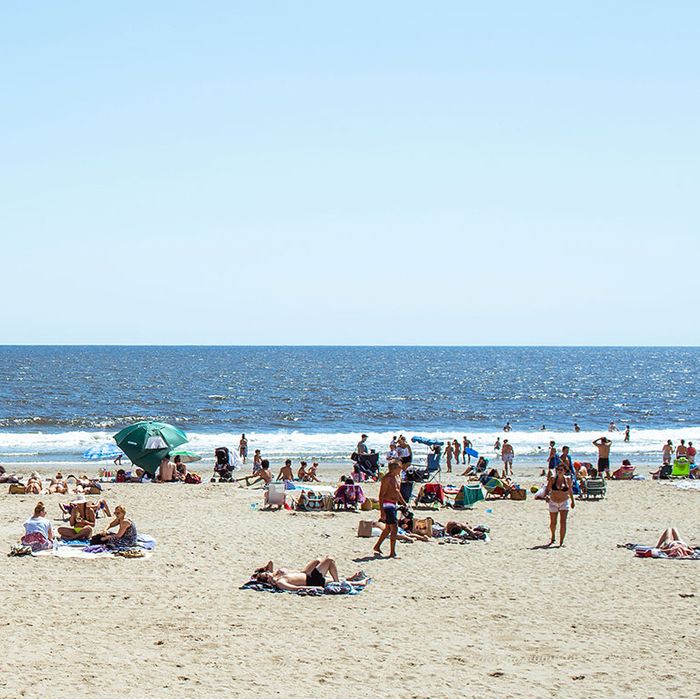 Rockaway Beach.
Photo: Getty Images
Although many New York residents spend most of the year cooped up in windowless offices and cramped apartments, we all tend to emerge in the summer to take advantage of the city's (overcrowded) beaches. But even if we slather ourselves with sunscreen before we leave our apartments, our poor bodies just aren't used to the sun and often end up completely burnt during our beach excursions. Luckily, this year we may be able to avoid being fried by the sun, as the New York City Parks Department is set to install 100 free sunscreen dispensers on city beaches this summer.
As Gothamist reports, the Parks Department's pilot program will dispense 1,000 liters of SPF-30 water-resistant sunscreen at beaches across the five boroughs. The program is designed to try to fight skin cancer — the Centers for Disease Control and Prevention notes that skin cancer is the most common cancer in the U.S. and also recommends people wear SPF 15 or higher — and is sponsored by the non-profit IMPACT Melanoma and skin cancer prevention company Bright Guard.
In addition to helping combat skin cancer, New York City comptroller Scott M. Stringer, who originally proposed the program last year, hopes it will also help lower-income residents get access to sunscreen. "Given that three ounces of sunscreen — just enough for one person's day at the beach — can cost as much as $13.99, free sunscreen will help all New Yorkers keep more of their hard-earned cash for other priorities," he wrote in the program's proposal.