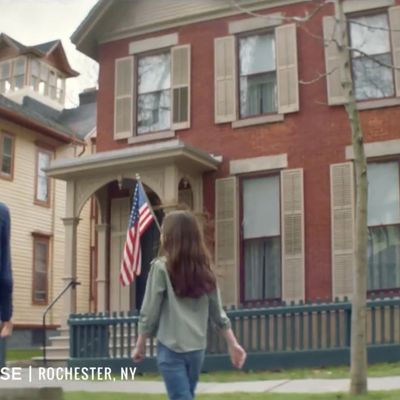 The Susan B. Anthony house in Rochester, New York.
Need a spiritual vacation? A new ad and tourism campaign from New York takes you on a road trip through the state's historic equal-rights monuments, from Manhattan's Stonewall National Monument to Harriet Tubman's home in Auburn. The campaign, announced today by Governor Andrew Cuomo, is running in conjunction with the 100th anniversary of women's suffrage in New York State.
The ad below features a young girl and her mother visiting the Susan B. Anthony house in Rochester. It's the first in a series highlighting the monuments. The new I Love NY guide specifically features abolitionist, suffragist, and human-rights monuments.
"With this campaign, we celebrate the people and places that helped make New York what it is today: New Yorkers who risked their lives to be a part of the Underground Railroad, leaders who started the women's rights movement at Seneca Falls, and rebels who stood up for LGBTQ rights at Stonewall," Governor Cuomo said. "In New York, we know that our differences unite us and only make us stronger and I encourage everyone to hit the road and visit these key sites in our state's history." Watch below to get inspired.