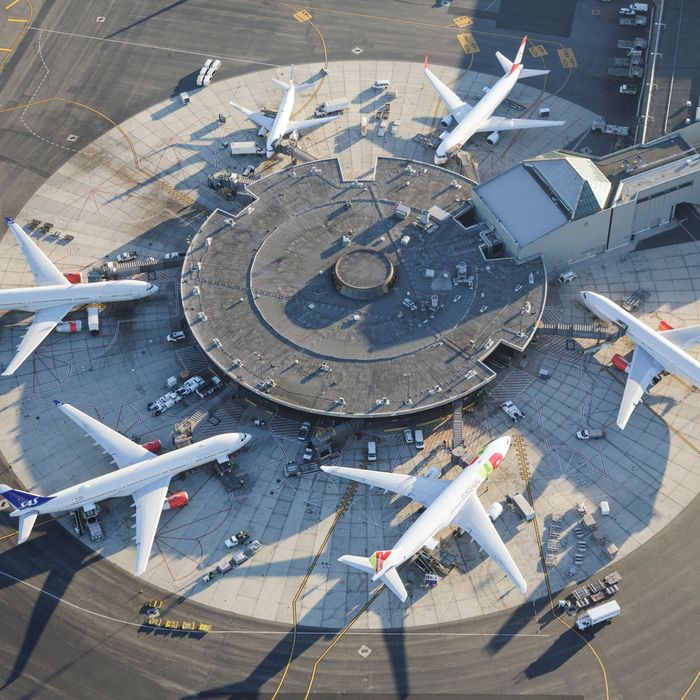 Newark Airport.
Photo: James Leynse/Corbis via Getty Images
The Department of Homeland Security is reportedly investigating allegations of hazing among U.S. Customs and Border Protection Agency officers at Newark Airport, including claims of a so-called "rape table" where veteran officers have been duct-taping victims and abusing them, according to NBC 4 New York.
The CBP confirmed the Department of Homeland Security Inspector General's investigation to NBC 4 New York, after three customs agents opened up to the news outlet about the harrowing abuse they had allegedly suffered. The agents claim that the abuse has been going on for "years" in a secure room in Newark's Terminal C, where security cameras are monitored. The assaults purportedly occur on a conference table, and although clothing is reportedly never removed during the hazing, agents allegedly "grind" the genital areas of victims.
Per NBC 4 New York:
"Hazing wouldn't do this justice. This is complete assault. They take you in a room and your fellow officers are all watching as officers grab you," said CBP officer Vito Degironimo.
Degironimo explained that the abuse occurs "once the lights go out," at which point veteran agents "grab you up like a gang, and they forcibly throw you on the table." He said one officer ended up "mounting" him and riding him "like a horse," and that he was grabbed by other officers against his will. Another CBP officer, Dan Arencibia, told NBC 4 New York that he "narrowly escaped" the assault, but that a song from the MTV show Jackass was being played in the room during the hazing ritual.
"It's called the 'Party Boy song.' It's something they played in the past and it becomes their theme for the event," Arencibia said, adding that he documented the alleged abuse. "They're monsters in a sense. They know that we can't do anything about this."
CBP agent Diana Cifuentes explained that had also been able to escape the "rape table," though she was allegedly chased by one agent, taped with green customs tape to a chair by another, while a different officer pulled his gun on her. "I was very afraid for my life," she told NBC 4 New York. "I took a deep breath and kept on typing like nothing was happening. I know that if I reacted either he was going to pull the trigger or I was going to draw the weapon myself and shoot him."
The officers were "too intimidated" to make official complaints at first, though Degironimo eventually filed an internal complaint and all three ended up reaching out to an attorney for help filing a lawsuit. U.S. Customs and Border Protection told NBC 4 New York that the investigation is ongoing. "We do not tolerate corruption or abuse within our ranks, and we cooperate fully with all criminal or administrative investigations of alleged misconduct by any of our personnel, whether it occurs on or off duty," CBP said.