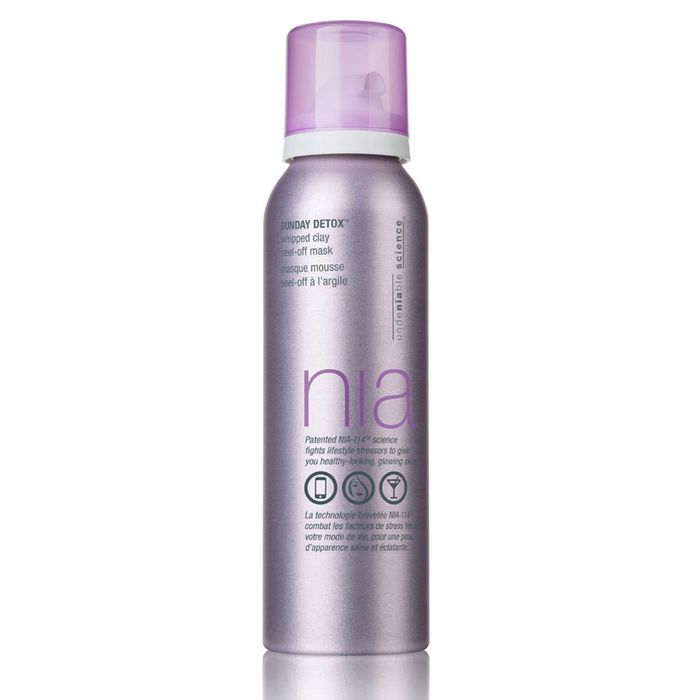 I just came back from New Orleans and — well you know what happens in New Orleans. A lot of debauchery. And the proof was on my face. My skin looked bad. Maybe not Mariah Carey in Precious bad, but close. A by-the-book beauty editor would have told someone like me to drink plenty of water and attempt to adhere to a plant-based diet for a day or so, but that's boring. And slow. Masks are a hell of a lot easier. And fun.
A mask for when your skin is unquestionably terrible is hard to come by. For me, it needs to address random patches of dry skin; buried pimples that are threatening to breach my forehead; dullness; and weird things that I've noticed are becoming more commonplace as I grow older, like, I don't know, redness. The best mask equipped to handle this job is Nia's Sunday Detox Whipped Clay Peel-Off Mask, which was precisely designed for people who are routinely rotten to their skin.
Nia is a new millennial-targeted diffusion line from the olds at StriVectin, a brand known for "tightening creams" and other imaginative solutions to help people not look their age. Studies show that young people are reluctant to invest in anti-aging skin care, so Nia was launched in response (Nia is an acronym for "not into aging"). If you can overlook Nia's corny origin story and the feeling that a room of beauty execs were looking to game impressionable young folks with a new line, you can come to appreciate Sunday Detox, which clears a face full of clogged pores in 15 minutes.
The clay mask is dispensed via a foam, which means it sits light-as-air on your face. There are fruit acids in the formula to gently exfoliate and brighten, and a few oils and vitamin E tossed in the mix to soothe and moisturize dry skin. I'm not saying this is a requirement, but the mask also smells vaguely floral, which is certainly better than most clay masks that smell vaguely fecal.
After 10 or 15 minutes, the mask hardens, and you peel what has dried into a thin gray sheet from your face. It's so satisfying to see and feel the soft, delicate skin the mask has engineered underneath. Sunday Detox was the first thing I reached for when I returned from my trip to the Big Easy. When I got back to work, a colleague commented on how radiant my skin looked after vacation. I'm no saint or anything, so I just said: "Thank you."
If you buy something through our links, New York may earn an affiliate commission.