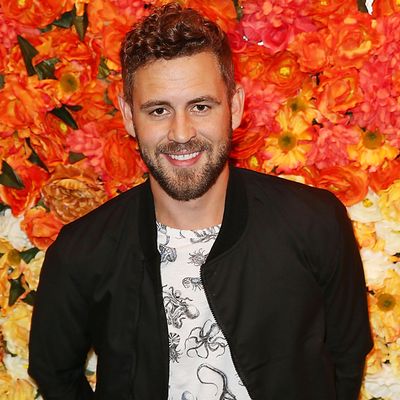 Nick Viall.
Photo: Joe Scarnici/Getty Images for boohoo.com
Remember that halcyon time when Nick Viall was neither a creep on The Bachelorette nor a bore on The Bachelor? Well, the Bachelor in Paradise Nick is back, and this time he's funneling his charm toward selling a subscription-based grooming product service for men. The Polished Gent, which he teased on Entertainment Tonight in March, sounds an awful lot like Birchbox or the Dollar Shave Club, and so far there aren't a lot of specific details available. But you've gotta admit that Viall's video pitch is pretty winning.
In an Instagram video, Viall declares, "I'm 36 years old, and I think I look young as f*ck. And we can all agree that I've polished up over the past few years. How did I do it? I have been using this amazing combination of products religiously," he claims, holding a manly wooden box that glows when he opens it, Pulp Fiction-style. Inside, he promises, is the key to looking as "polished" as he does, with a slew of face and hair products that will arrive at your door every month. What kind? How much will it cost? Do the side effects include a sudden thirst for reality TV show fame? Guess we'll find out when the Polished Gent launches on Monday, May 8.